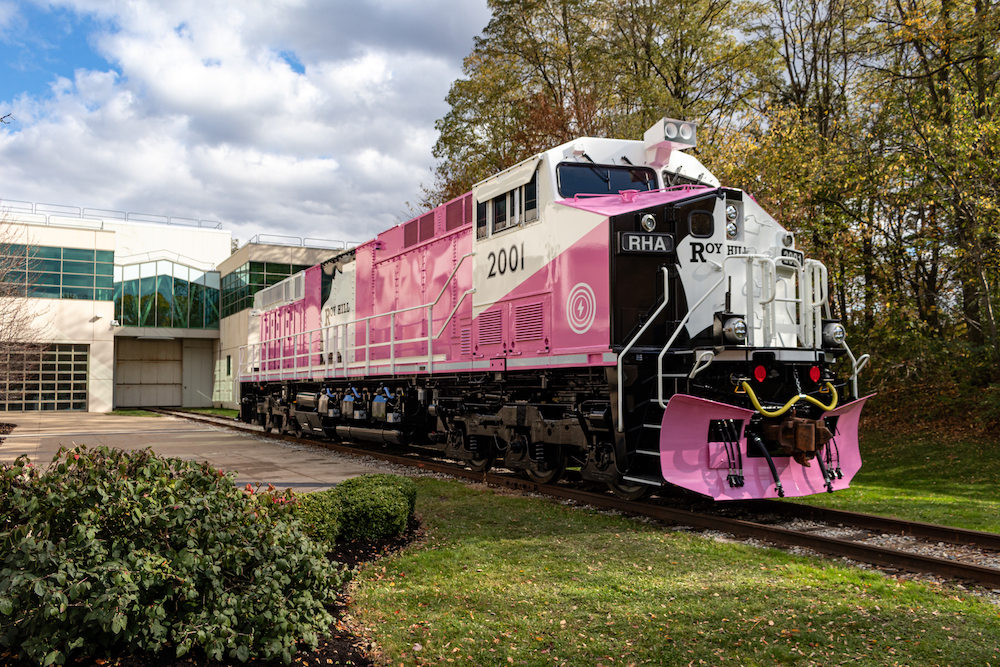 ---
ERIE, Pa. —Wabtec and Australian mining firm Roy Hill have unveiled world's first 100% battery-powered, heavy-haul locomotive for mainline service in ceremonies today (Oct. 31, 2023) at Wabtec's Erie manufacturing facility.
The FLXdrive locomotive contains 72 lithium-ion modular battery packs with a total of 36,288 cells, giving the locomotive an energy capacity of 7 megawatt-hours. This is about three times the power of a 2.4-megawatt-hour FLXdrive prototype that operated 13,000 miles on BNSF Railway in California with zero failures in 2021.
"This FLXdrive locomotive represents a major step in the journey to a low-to-zero-emission future in the rail industry," says Rafael Santana, president and CEO of Wabtec. "The FLXdrive is driven from within by our battery technology and the innovative spirit of our employees. Roy Hill is an ideal customer to partner with given their leadership and excellent operational record."
The FLXdrive unit will undergo extensive testing in Erie over the next six to eight months before being shipped 10,500 miles to Australia to enter revenue service on the Roy Hill railway, a 214-mile privately owned iron ore railroad in Western Australia's remote Pilbara region. Roy Hill owner Hancock Prospecting opened its line in 2015 and ships more than 63 million tons of iron ore annually to steel makers in Japan, South Korea, India, Malaysia, China, and Vietnam.
Currently, Roy Hill uses four Wabtec ES44ACi Evolution Series diesel-electric locomotives to pull its 240-car ore trains from the mine to a company-owned port facility. The FLXdrive locomotive will replace one of the diesels in the consist. The line's profile sees empties moving upgrade and loaded 33,000-ton ore trains returning downgrade. Roy Hill expects the battery-powered locomotive will be able to fully recharge its batteries on the downhill run using regenerative braking.
The new locomotive will operate in some of the most challenging conditions on the planet, with temperatures reaching 130 degrees, and will provide a double-digit percentage reduction in fuel costs and emissions per train.
"The foresight of our Executive Chairman, Mrs. Gina Rinehart AO, has been instrumental in establishing an environment in which we can successfully leverage the ingenuity of our people alongside key partners like Wabtec to transform our rail and mining operations through next-generation technologies," said Gerhard Veldsman, chief executive officer, Hancock Prospecting Group Operations.
Roy Hill announced in 2021 it would become the world's first fully battery-powered, heavy-haul railroad and placed its order for the FLXdrive locomotive in September of that year [see "Australian mining firm is first buyer …," Trains News Wire, Sept. 13, 2021]. The new unit follows Roy Hill's practice of painting its locomotives (and much of its mining equipment) bright pink to raise breast cancer awareness.
During today's ceremony, Wabtec officials introduced representatives from Linked in Pink, a nonprofit that provides support for Erie-area residents diagnosed with breast cancer, and announced Wabtec's donation of $50,000 to the group. It is the largest single donation in the nonprofit's history.