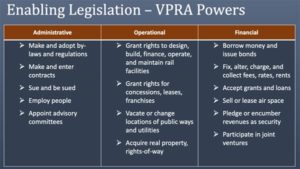 CHARLOTTESVILLE, Va. — Former Norfolk Southern and Amtrak CEO Charles "Wick" Moorman and retired NS executive Deborah Butler Painter are among members of the Virginia Passenger Rail Authority board of directors, which held its first meeting Monday to begin its efforts to improve rail transportation in the state.
Created by a law passed earlier this year, the 15-member board's initial opportunities are likely to involve the purchase of track and right of way from CSX Transportation announced in late 2019 [see "Virginia, CSX announce major rail infrastructure plan," Trains News Wire, Dec. 20, 2019]. However, WVIR-TV reports that Virginia Secretary of Transportation Shannon Valentine told board members Monday that the agreement has not yet been finalized. Valentine told the board uncertainty caused by the COVID-19 pandemic has contributed to the delay in finalizing the agreement.
Among the board's early actions to be addressed, although not necessarily finalized, in the first meeting, are the search for an executive director, creation of organizational bylaws, and approval of a memorandum of understanding to set types of assistance and fees for help that the Department of Rail and Public Transportation can provide while the authority is developing the ability to function independently. More details on the board and its authority are available in the information packet from Monday's meeting.
The 15-member board is chaired by the head of Virginia's Department of Rail & Public Transportation, Jennifer Mitchell, and includes 12 voting members selected by the governor, along with ex-officio members representing Amtrak and commuter agency Virginia Railway Express.