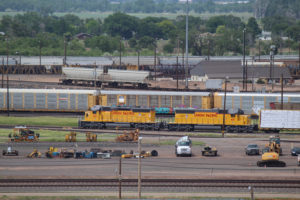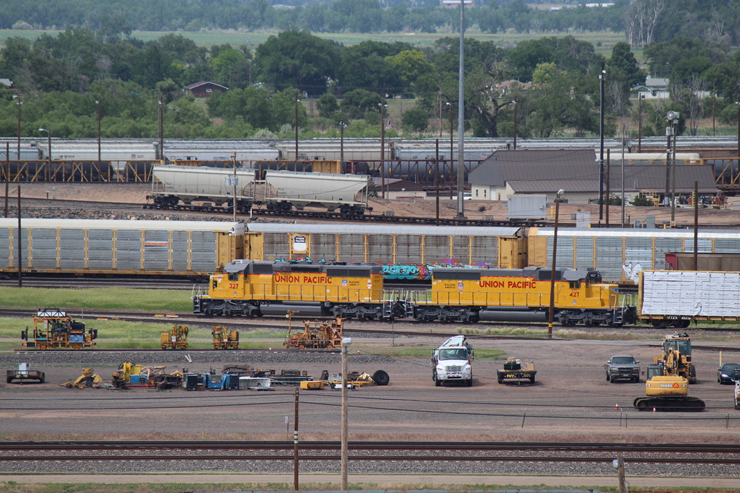 MAHA, Neb. — Union Pacific has temporarily resumed operations over the idled east hump at Bailey Yard in North Platte, Neb., while it makes improvements that will make switching more efficient.
The hump — one of two at the world's largest classification yard — was idled in September.
"We've temporarily backed off having the one hump closed at North Platte as we're doing a little bit of capital work that we think is going to enable us to handle things more efficiently," Chief Financial Officer Jennifer Hamann told an investor webcast on Tuesday. "We were starting to see some of the dwell increase and some of the service product suffer a little bit, and we didn't want to have that flow through to the customer base."
UP expects to shut down the eastbound hump again in January, Hamann says.
UP is adding new switches, is powering up some existing switches, and is building short track extensions that will allow the railroad to improve switching efficiency at North Platte, spokeswoman Raquel Espinoza says.
Under its shift to Precision Scheduled Railroading, UP also has idled the humps at Neff Yard in Kansas City, Mo.; Proviso Yard in Chicago; Hinkle, Ore; Pine Bluff, Ark., and Davidson Yard in Fort Worth since launching its Unified Plan 2020 in October 2018.
The railroad doesn't have an ideal number of hump yards in mind.
"It's all about where do you need to do the work and how can you do the work most efficiently in terms of flowing the freight cars," Hamann says. "And part of what the team has been focused on doing is being able to bypass yards, being able to build … densities so that you don't have to go through the hump yards. The end result of that has been that we've been able to take volume out of those yards and that's ultimately allowed us to shut down the hump and then just do flat switching."
Systemwide, UP's terminal dwell improved 9% in October 2020 compared to a year ago. The railroad also is handling cars fewer times en route, which has contributed to a rise in on-time performance for merchandise traffic, the railroad says.
Hamann spoke at the Baird Industrial Conference.