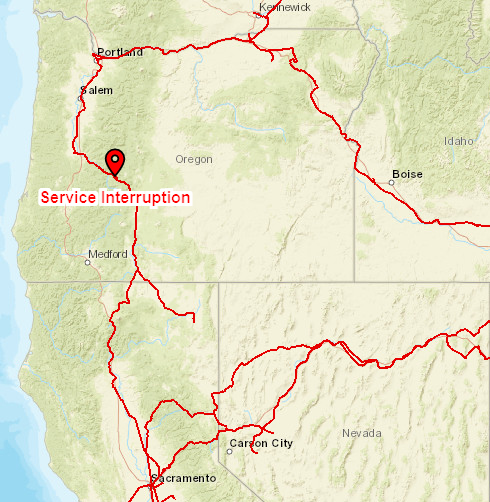 ---
OMAHA — Union Pacific's main line between California and the Pacific Northwest has been shut down in central Oregon today (Sunday, Sept. 11) as firefighters deal with a wildfire near Oakridge, Ore.
In an advisory to customers, UP says a curfew on train movements has been imposed from 11 a.m. to 10 p.m. local time as firefighters perform a controlled back burn between Oakridge and Cascade Summit, Ore., as part of their efforts to battle the Cedar Creek fire. The curfew could be lifted earlier by the fire department. It advises customers that shipments through the area should anticipate a delay of 24 hours.
The railroad says its water train is located in the area to minimize potential damage.
The Cedar Creek fire had expanded to almost 86,000 acres as of earlier this morning, with residents of Oakridge and Westfir, Ore., ordered to immediately evacuate to Lane Community College in Eugene, the Bend Bulletin reports.
The fire, attributed to a lightning strike, began Aug. 1, and is 0% contained after breaching existing lines. More than 2,200 homes and 400 commercial structures are currently threatened.
Amtrak's southbound Coast Starlight, which was scheduled to depart Seattle at 9:50 a.m., is being delayed in departure, according to the Amtrak Alerts Twitter feed.