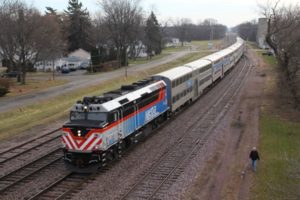 WASHINGTON — A coalition of unions and passenger groups has filed a statement with the Surface Transportation Board supporting Metra's request for a preliminary injunction to require Union Pacific to continue operating commuter service on three Chicago-area routes.
The statement filed Tuesday notes that the STB has said it will hold ruling on Metra's quest in abeyance pending a U.S. District Court ruling [see "STB defers decision in Metra-Union Pacific dispute," Trains News Wire, Aug. 7, 2020], but asks that the board grants Metra's request should the court not act promptly. The coalition writes that it "believes it is in the public interest to ensure that Chicagoland commuters have continued, uninterrupted access to public transportation," and that it believes UP's decision to end services supporting Metra operations this fall are "an aggressive, unlawful tactic by UP to pressure Metra in negotiations, while needlessly harming the public and employees." It notes that UP has abolished at least 40 ticket agent positions.
Groups filing the statement include the Transportation Communications Union, Brotherhood of Railway Carmen, International Association of Machinists & Aerospace Workers, Rail Passengers Association, and Transportation For America. "Our coalition represents various parties with an aligned interest in passenger rail, rail transit, and the respectful treatment of employees caught in the middle of a dispute between UP and Metra," the group says.
UP and Metra are mired in a dispute over the future of operations on the UP West, Northwest, and North lines. UP sued Metra late last year [see "UP sues Metra over commuter operations," News Wire, Dec. 21, 2019], while Metra took the dispute to the STB last month [see "Metra asks STB for injunction against Union Pacific …," News Wire, July 21, 2020].