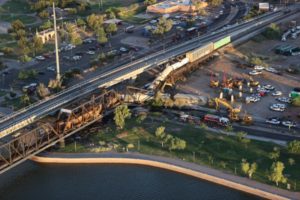 TEMPE, Ariz. – Union Pacific expects to reopen the derailment-damaged bridge, and thus its line to Phoenix, "late next week," the railroad has told customers in a service update.
"Our Engineering and Operating teams have been working around the clock. All debris and damaged rail equipment have been removed and repairs to the bridge are well underway," the statement reads. "We are currently anticipating reopening the bridge the end of next week. To assist in working off the backlog, we also plan to stage inbound trains at strategic locations to expedite delivery to customers once the bridge has reopened."
The July 29 derailment and subsequent fire damaged a bridge over Town Lake and closed the railroad's branch to Phoenix. A nearby light rail line was also disrupted for a time. The railroad has since dismantled a portion of the damaged bridge using an explosive charge.