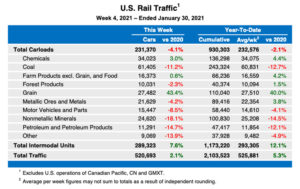 WASHINGTON — U.S. rail traffic in January showed a 5.3% increase over the same month in 2020, while traffic in the week's final month was up 2.1%, according to the latest figures from the Association of American Railroads.
"We are encouraged by rail volumes in January," AAR Senior Vice President John T.Gray said in a press release. "U.S. intermodal shipments and carloads of chemicals set new records; grain had its biggest-ever year-over-year increase; total carloads were the highest they've been in a year; and carloads excluding coal actually grew year-over-year for the second straight month." He noted the economy still faces uncertainty, "but we're cautiously optimistic about the future."
Ten of 20 carload groups saw increases in the month, led by grain, which accounted for an additional 31,434 carloads, a 40% increase. Intermodal traffic totaled 1,173,220 containers and trailers, an increase of 12.1%.
For the week ending Jan 30, intermodal traffic included 289,323 units, up 7.6%, while the 231,370 carloads represented a 4.1% decrease. Overall North American volume, for 12 reporting railroads in the U.S., Canada, and Mexico, was 711,150 carloads and units, a 0.7% increase, with carloads down 3.4% and intermodal traffic up 4.7%. In Canada, carloads were down 3.4% and intermodal traffic was down 3.3%.