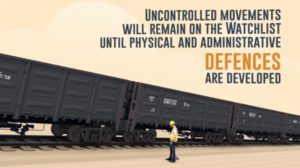 GATINEAU, Quebec — Two rail-specific issues, and others with rail connection, are on the Transportation Safety Board of Canada's Watchlist 2020 of key transportation safety issues. The agency issued the annual list, in its 10th years, on Thursday.
New to the list, which includes eight items, is "unplanned or uncontrolled movement of railway equipment" [addressed in a video and other information here]. The TSB notes it has taken significant action on the incident since the 2013 Lac Megantic, Quebec, tragedy, but that the problem is increasing, with 78 incidents in 2019.
Also on the list is "following railway signals"
, which the board says will remain part of the watchlist "until railways implement additional defenses." Annually since 2004, there have been an average of 31 reported incidents in Canada where a crew does not respond appropriately to a signal aspect, and these incidents, too, are on the rise, with 40 in 2018 and 38 in 2019.
Three other issues — safety management, regulatory oversight or surveillance, and fatigue — are issues affecting multiple modes of transportation, including railroads. All have been on the list previously.
Non-rail items on the list are commercial fishing safety and two aviation issues, runway overruns and runway incursions. Video of the list's release is available on the TSB YouTube channel.
"The Watchlist is always evolving," TSB Chair Kathy Fox said in announcing the list. "If sufficient progress is made to reduce the risks, old issues are removed, just as new issues are added when they arise. Watchlist 2020 is a good example of this as several issues remain from previous years, but we have also added a new issue, removed one and split another into two."