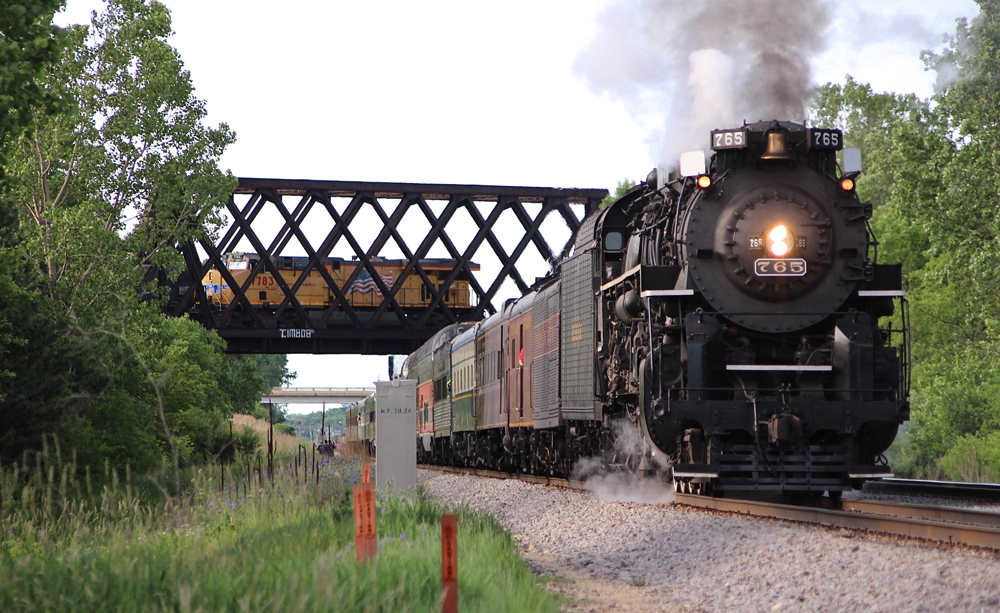 BELLEVUE, Ohio — Two Nickel Plate Railroad 2-8-4 locomotives will be reunited for a series of special events Sept. 24 to Oct. 3, with the Fort Wayne Railroad Historical Society and Mad River & NKP Museum combining for the "Berkshires in Bellevue" event.
Tickets will go on sale July 28 for events featuring the Fort Wayne society's locomotive, No. 765, and No. 757, which spent many years at the Railroad Museum of Pennsylvania before being transferred to Mad River in 2019, where plans call for its cosmetic restoration.
Events on tap include 20-minute cab or caboose rides on Sept. 25-26 and Oct. 2-3, a public night photo session on Oct. 1 and members' night photo session on Oct. 2; a hostler experience to help prepare No. 765 for a day's operation; breakfast events on Sept. 26 and Oct. 3, and a dinner buffet on Sept. 25. Tickets range from as little as $10 for some caboose-ride seats to $284 for the hostler experience. Visit the Fort Wayne Railroad Historical Society website for more information or to purchase tickets when they go on sale. Admission to the Mad River museum will be $8 with the purchase of any event or $10 if purchased separately.