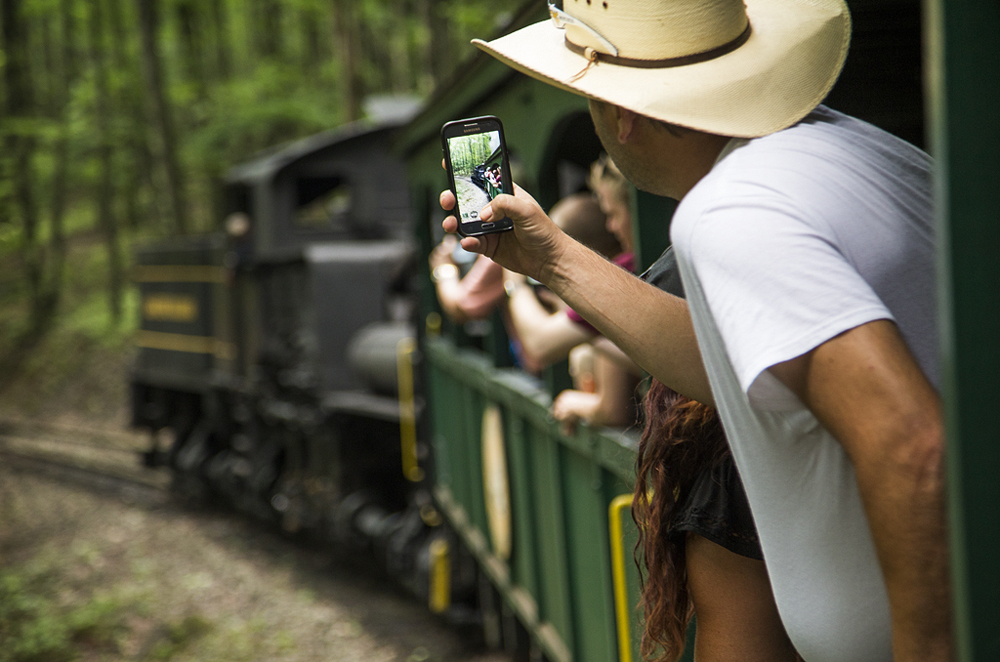 ---
CHARLESTON, W.Va. — People are vacationing again, and travel spending is close to th pre-pandemic 2019 levels. This means as more Americans travel in 2022, tourist and heritage rail attractions can focus on what is normal: selling seats and injecting much-needed cashflow into tourist rail and preservation. This year is likely to be the first season in two years that these railroads operate in near-normal fashion and with less uncertainty around emerging variants and capacity-crippling mandates.
According to the U.S. Travel Association, travel nearly recovered to pre-pandemic levels in December 2021 when U.S. travelers spent $92 billion, just 2% off December 2019. It was the strongest month since the coronavirus interrupted the economy in the first quarter of 2020.
The association projects Americans will spend $726 billion in leisure travel in 2022, up $24 billion from 2021's forecast. This includes $127 billion in domestic consumer travel, a 36% increase from 2021's forecast, and $79 billion in group-related travel, up 83%. If these projects come to fruition, tourist railroads are likely to see ridership gains even with coronavirus lingering.
"A lot of [tourist railroads] report that advanced sales are far exceeding expectations, and many are even sold out months in advance," says Roy Wullich, an accountant and director at the Railroad Passenger Car Alliance. "One tourist railroad was seeing Polar Express reservations and sales in January for fall of 2022."
Roger Fuehring, president of the Railroad Passenger Car Alliance, says how quickly Polar Express tickets sell out is a good indicator the public is eager to get out.
Strong momentum ahead of the travel season and being nimble-minded will help railroads capture opportunity while also keeping cognizant of coronavirus' existence.
John Harper, general manager of American Heritage Railways, the parent company of the Durango & Silverton Narrow Gauge and Great Smoky Mountains railroads, and Rail Events Inc., the licensing company for Polar Express, says the tourist rail industry is in a state of flux.
"The ability of being able to make strategic operating decisions and then change the direction of those decisions within 24-48 hours to ensure the success of the company has never been so important," Harper says.
"At American Heritage Railways, we don't know what the term 'normal' is. We take historical data from pre-pandemic years, develop new operating plans which include restrictions implemented by local, state, and federal organizations and implement what we believe works with the limited resources, staffing challenges, increases in costs, and delays in products and equipment that our nation is facing."
He says the company evaluates the operating plan daily and makes necessary adjustments to ensure it is providing the quality of service that everyone expects.
"[The company] does believe that we will see a glimpse of normal operations in 2022 but that … business will be tweaked and improved by what we have learned operating through COVID-19," he says.
Seeing leisure travel return to normal is important for long-term planning. Equipment continues to age and in the absence of surplus dollars, railroads have to strategically consider how each dollar serves a larger purpose in preservation. The interruptions to ridership in 2020-2021 impacted operating budgets, causing railroads to defer non-essential projects.
"COVID- 19 put a stop to many capital improvement projects and made railroads focus on what's important and needed to survive," says Harper.
But capital projects are now back on at the American Heritage family of railroads, he says.
"Taking the conservative approach by creating a priority list of which projects should be funded immediately, and then others approved during the season based on revenue, is the ideal way to go," Harper says. "This creates a financially stable environment based on cashflow to not put the company in a financially difficult situation if revenue declines."
Many railroads that operated full schedules last year benefitted from robust numbers, shattering previous records while adhering to federal mandates and guidelines. But trying to gauge consumers' willingness to travel while America navigated the Delta variant made it difficult to forecast year-end numbers, even as some railroads were propped up by government-backed loans and assistance.
"It will take most places several years to recoup from the loss of revenue due to COVID shutdowns," says Ray Kammer Jr., president of the Cincinnati Railway Co. and the Lebanon Mason Monroe Railroad. "I predict it will be two or three years before our organization recovers from the revenue loss in 2020." He notes 2021 was a year of record-setting numbers for the Ohio tourist railroad, which operated its full season.
Tim Andrews, president of the Tennessee Valley Railroad Museum, says the museum's operations largely returned to normal in 2021 with successful Day Out with Thomas and North Pole Limited events, as well as near record-ridership on regularly scheduled trains.
"Off-site operations were impacted by deferred maintenance caused by the 2020 revenue reductions, but should return to normal at sometime in 2022," says Andrews. "Barring some unforeseen circumstances, 2022 will be a record year."
Andrews says the museum's freight operations helped insulate project spending from the passenger revenue downturn.
"Coupled with two rounds of [Paycheck Program Program] loans maintaining a considerable portion of our needed cash flow, TVRM was able to complete a number of multi-year projects," Andrew says, "including passenger equipment rehabilitation and movement of equipment to Chattanooga from its point of acquisition."
Andrews says that as long as freight operations continue at the current pace, the combination of freight and passenger revenues will allow a number of rolling stock and facility projects to move forward in 2022.
American Heritage Railways expects consumer behavior to shift slightly this year.
"Reservations throughout [the company] and its subsidiaries have varied based on location," Harper says. "We have seen examples of some locations up significantly by double-digit percentages and others down by the same amount compared to prior years.
"We expect 2022 to see slower long-term booking trends and more last-minute reservations made within 21 days. We have created a business plan where at any of our properties we can adjust product inventory based on last-minute sales."
It's undeniable that America is quickly approaching another travel season and consumers have the dollars and desire to enjoy unique experiences. Open-mindedness and learning to co-exist with coronavirus in 2022 will be a good opportunity for tourist railroads to rekindle old friendships and introduce a new platform of curious consumers to the excitement of railroad preservation.