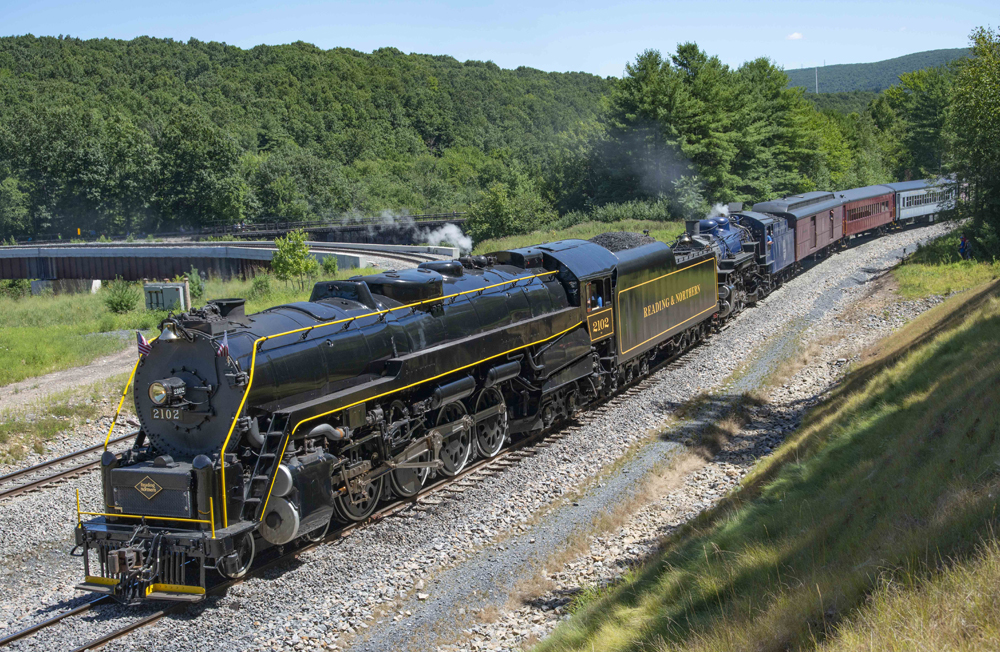 ---
The star of the show for 11 mainline passenger excursions on Reading & Northern in 2022 was the railroad's newly restored former Reading Co. Class T-1 4-8-4 steam engine No. 2102 (Reading Shops, 1945). Most of the trips ran from Reading, Pa., to Jim Thorpe, Pa., about a 135-mile round-trip. All of those trains ran 18 to 20 cars long, and all were sold out.
One of those runs has to be considered the Eastern railfan event of the year, an Aug. 13 steam doubleheader, teaming No. 2102 with R&N's blue-painted 4-6-2 engine No. 425 (Baldwin Locomotive Works, built for Gulf, Mobile & Northern Railroad in 1928).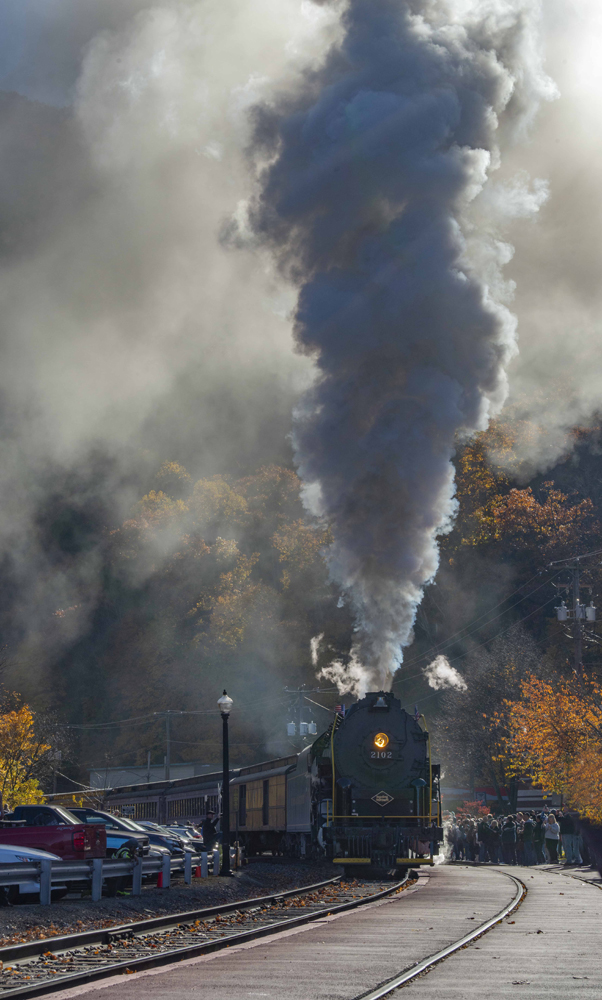 The 2102's summer and fall outings represented a revival of the Reading Co.'s 1959-1964 "Iron Horse Rambles." In that program, the Reading ran 51 steam excursions behind T-1 locomotives — both singly and doubleheaded — in eastern Pennsylvania, New Jersey, and Delaware.
In 2022, R&N owner and CEO Andy Muller Jr. brought No. 2102 back to life after 31 years, spending $2.4 million in a six-year overhaul in his steam shop at R&N headquarters in Port Clinton, Pa., about 20 miles north of the engine's birthplace at Reading, Pa. The tender carries tasteful "Reading & Northern" lettering that mimics the original "Reading" style, and an R&N diamond logo on the air-compressor shield resembles the Reading diamond that the T-1s wore during the Rambles.
No. 2102 is one of  four survivors out of a fleet of 30 T-1s that Reading built in 1945-47 for fast freight service. Using parts supplied by Baldwin, the Reading recycled the boilers and other parts of 30 1920s-built Class I-10sa 2-8-0 engines. Replaced by diesels in 1956, the T-1s were retired and scrapped except for the few that were kept for the Rambles.
Muller acquired No. 2102 in 1986. He ran it both locally on his original short line, the 13-mile Blue Mountain & Reading, and off-line via Conrail to such destinations as Philadelphia; Rockville Bridge near Harrisburg, Pa.; and Port Jervis, N.Y. After handling an August 1991 round-trip excursion from Tamaqua, Pa., to Reading, it went into long-term storage.
Over the years, BM&R grew into a 400-mile regional freight carrier serving eastern Pennsylvania, with 300-plus employees. With the expansion, Muller changed its name to Reading, Blue Mountain & Northern, usually shortened to just Reading & Northern. R&N encompasses trackage of six predecessors: Reading, Jersey Central, Lackawanna, Pennsylvania, Lehigh & New England, and Lehigh Valley. The Reading-Jim Thorpe route is a combination of former Reading and Jersey Central lines.
A return on freight trains
Work on No. 2102 resumed in 2016, and by the spring of 2022, it was ready for break-in trips with empty hopper trains, simulating the weight of an 18- to 20-car passenger consist. Muller himself lit the fire in the firebox on April 4, signifying completion of the restoration. Over the next several weeks, it was tested on a few revenue freight runs before making its Reading-Jim Thorpe passenger debut on May 28.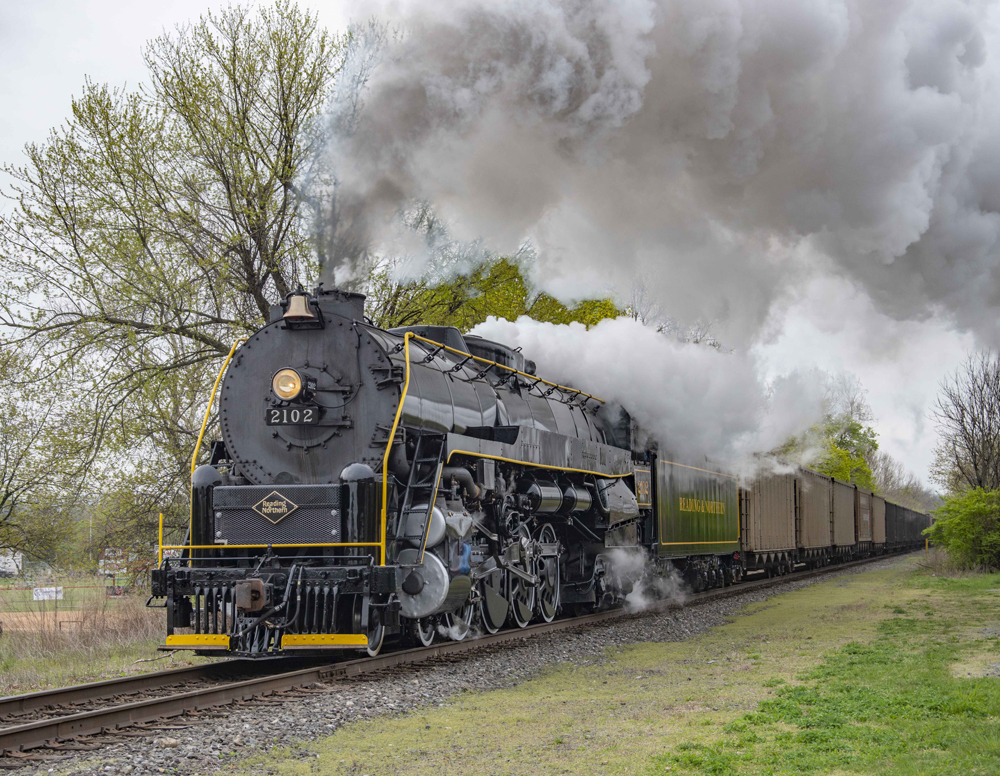 After that, it pulled three more summer excursions, then R&N added four fall foliage trips over the same route. Muller decided to run the doubleheader on Aug. 13 in honor of his 75th birthday. In addition, R&N ran three shorter trips as part of the Sept. 24 Borough Day celebration for Schuylkill Haven, Pa.
"The restoration of 2102 was an exciting event, from testing the locomotive in the spring, to running freight trains and Rambles," said Matt Fisher, R&N director of passenger services.  "The locomotive boosted ridership from Outer Station to Jim Thorpe. It also made an appearance at the very successful Schuylkill Haven Borough Day mini-trips in September. It ended up running several fall foliage trips. We are looking forward to running it several times in 2023."
All of this came on top of a few passenger trips with R&N's No. 425 steamer, trips with its former Norfolk Southern F units Nos. 270-275, Rail Diesel Car excursions and charters, and shuttle trains from Jim Thorpe through the scenic Lehigh Gorge State Park, usually led by R&N GP38-2s. Muller's passenger-car fleet now numbers nearly 50 pieces, among them coaches, lounge cars, dome cars, a heavyweight Pullman, a baggage car, and round-end and open-platform observation cars.
The only hiccup with No. 2102 came during the Oct. 8 run. Clogged ports in the firing table in the engine's firebox prevented the proper distribution of coal in the combustion chamber. As a result, the steel component overheated and melted after the train left Reading, and diesels were quickly substituted at Port Clinton. Passengers, who normally pay a higher fare for steam trips, were compensated for the engine change. No. 2102 was repaired in time for the next excursion on Oct. 29.
During all of No. 2102's runs, railfan photographers and videographers flocked to Pennsylvania's Coal Region by the hundreds, if not more. Forming miles-long motorcades, they jammed the area's mostly two-lane mountain roads and the chronically congested streets of Tamaqua, Pa.
At the end of 2022, No. 425 was taken out of service for its federally mandated 1,472-day/15-year boiler inspection, so R&N  steam trips in the near future will be with the T-1.
(Links to additional coverage below photo)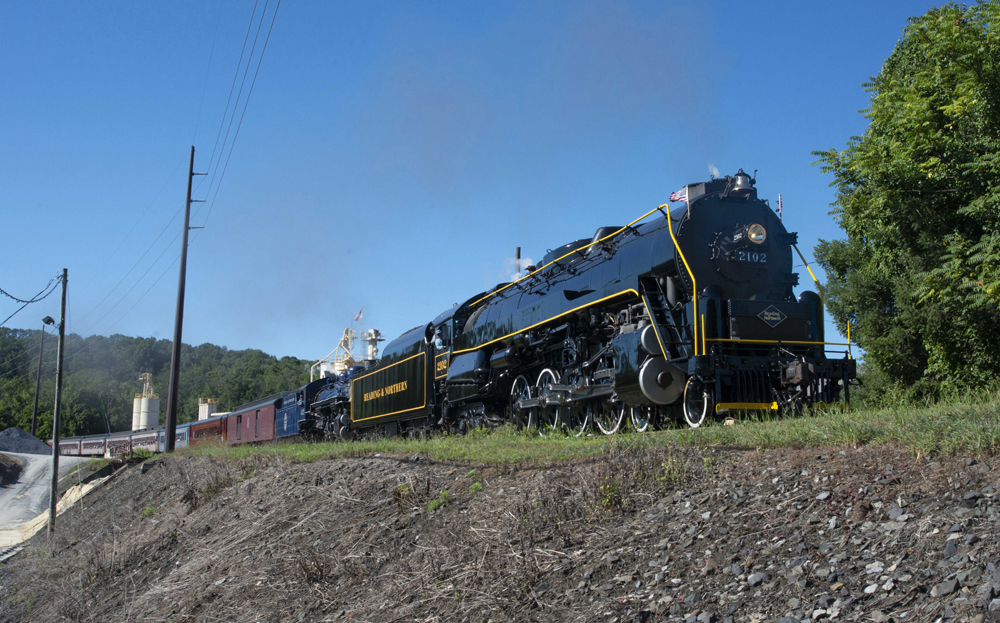 ---
Additional News Wire coverage:
Rebuilt Reading & Northern 4-8-4 to debut on freight trains, Jan. 27, 2022
Reading T-1 4-8-4 2102 steam locomotive profile, April 6, 2022
Reading & Northern No. 2102 hauls coal hoppers in test run, April 26, 2022
News photos: Another trip with freight cars for Reading & Northern 2012, May 20, 2022
News photos: Doubleheaded 'Iron Horse Ramble' marks Reading & Northern owner's 75th birthday, Aug. 14, 2022
Reading & Northern 2102 sees freight action, Aug. 20, 2022
Reading & Northern 4-8-4 repaired, set for next excursion, Oct. 12, 2022