---
Continuing our countdown of the Trains News Wire Top 10 stories of 2022, as determined by a vote of Trains editors, columnists, and masthead correspondents:
Rapid progress continued in the restoration of the narrow gauge East Broad Top Railroad in Pennsylvania, a once-endangered short line that is a National Historic Landmark.
Owned by the EBT Foundation Inc., the 27-mile-long railroad in 2022 acquired its first new passenger coaches in more than a century and began work to reopen a portion of its main line that lay dormant for 66 years. As the year ended, EBT was also looking toward steaming up one of its six Mikado 2-8-2 locomotives, No. 16 (Baldwin Locomotive Works, 1916).
Just three years ago, railroad industry leaders Henry Posner, Wick Moorman, and Bennett Levin formed the non-profit to buy EBT from its previous owner, the Kovalchick family. Restoration has proceeded at a dizzying pace ever since.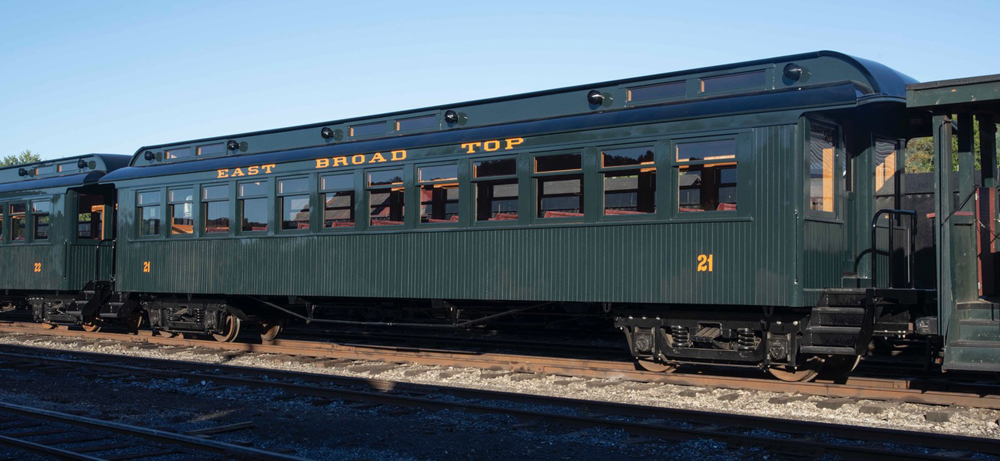 On July 19, the railroad took delivery of the first two of four new passenger cars built by Hamilton Manufacturing of Bellingham, Wash., the same firm that has built dozens of coaches for Alaska's narrow-gauge White Pass & Yukon Route Railroad. Resembling EBT's four remaining 1880s-era passenger cars, the pair quickly entered service. Still coming are another coach and a combine with wheelchair-lift accessibility.
Ridership was nearly double that of 2021, when EBT resumed regularly scheduled passenger service for the first time since its closure as a tourist railroad in 2011. "In total, we carried just over 19,000 riders and sold approximately 2,300 guided [shop/roundhouse] tour tickets," said Jonathan Smith, director of sales and marketing.
The Friends of the East Broad Top Railroad, which saw its membership double since 2020, continued its robust program of restoring the dozen-plus buildings of the historic machine shop/foundry complex at the EBT headquarters town of Rockhill Furnace, Pa. This work was crowned in 2022 with the reconstruction of a long-gone coal dock shed in Rockhill yard, which EBT General Manager Brad Esposito cites as the first building to be re-created rather than repaired. This elevated structure protected hopper cars dumping coal for refueling the tenders of EBT's steam engines.
The Friends' track gang, under the leadership of volunteer Gene Tucker, continued to aid EBT's full-time track crew by restoring the line in three areas:
— Rockhill Yard and a 4½-mile-long section of main line, which offers regularly scheduled diesel-powered tourist runs;
— A nearly 2-mile stretch in Robertsdale, Pa., at the mountainous southern end of the line. It's not ready for trains, but is open for public handcar rides from the Friends museum and passenger station there; and
— The main line south of Rockhill, which has lain dormant since 1956, when EBT ended common-carrier coal-hauling operations. The first step in reopening the 20-mile line to the mining region is to reach Pogue (3 miles), Three Springs (3 miles), and Saltillo (2 miles). The Friends have committed funding toward recreating a demolished station and water tank at Saltillo.
A joint EBT/Friends project made its debut in October with the opening of the free online archives, with 1,000 documents and photos from both groups' collections. The organizations jointly sponsor the work of consultant archivist Julie Rockwell, who is cataloging and organizing 150 years' worth of minute books, blueprints, train orders, photos, and other artifacts.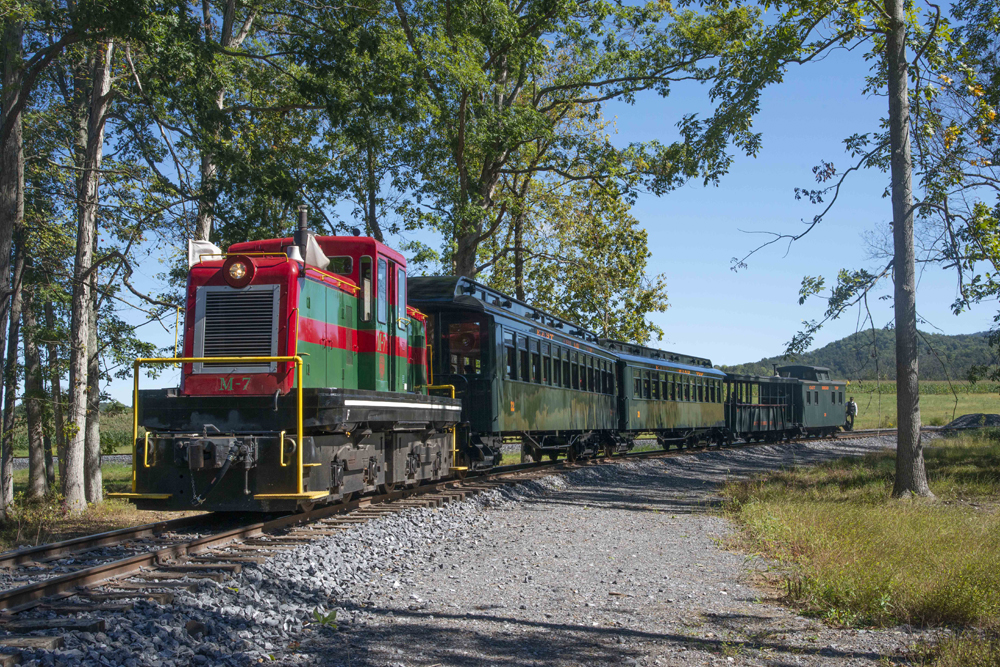 Other projects included hiring a mapping consultant to survey the line's two tunnels with a drone; advancing work on a fire-suppression system to protect the shops/roundhouse  complex; and laying plans for a new picnic area and venue at Colgate Grove, the wye and northern end of train operations.
In December, EBT marked its third "Christmas in Coal Country" special event in partnership with the adjacent Rockhill Trolley Museum; operated "Peanuts The Great Pumpkin Patch Express" trains; held a military re-enactment event, and ran trains for the road's annual Winter Spectacular railfan weekend and FEBT Reunion fall weekend.
Friends President Andy Van Scyoc called the year's accomplishments "a testament to an exceptional partnership between the Friends and the Foundation . . . made possible by the overwhelming support, both in volunteer hours and financial contributions, of our FEBT members and others who recognize the EBT's significance." The Friends group over-achieved its 2022 fundraising goal of $100,000 by tallying $247,000 in donations for the year.
Esposito agreed, saying of the two non-profits, "Together, we have exceeded many goals and expectations this year and look forward to the coming year with the return of steam and the first steps in reaching Saltillo."
Master Mechanic Dave Domitrovich and his crew continue to prepare No. 16 for returning to service, with others in the EBT stable next in line.
Foundation Chairman Henry Posner added: "As someone who prides himself in his knowledge of rail history, I am still scratching my head as to anything remotely resembling the EBT story. To me, the highlights are the preservation of the railroad by the Kovalchick family (1956-2020) and the decades of support by the Friends of the EBT. Without either of these, the EBT Foundation would not exist."
---
Additional News Wire coverage:
East Broad Top sells out Winter Spectacular, Feb. 25, 2022
East Broad Top team brings history to life: analysis, May 24, 2022
Drone whirs through East Broad Top tunnels, May 27, 2022
Work on East Broad Top 2-8-2 No. 16 nearing completion,  May 31, 2022
East Broad Top begins restoring main line south,  June 3, 2022
First new coach arrives at East Broad Top,   July 20, 2022
Friends work week brings more progress, Sept. 29, 2022
EBT opens the door on south portion of main line, Oct. 11, 2022
'Friar Tuck' and the East Broad Top, Oct. 13, 2022
Coming at East Broad Top: The New Colgate Grove, Nov. 7, 2022