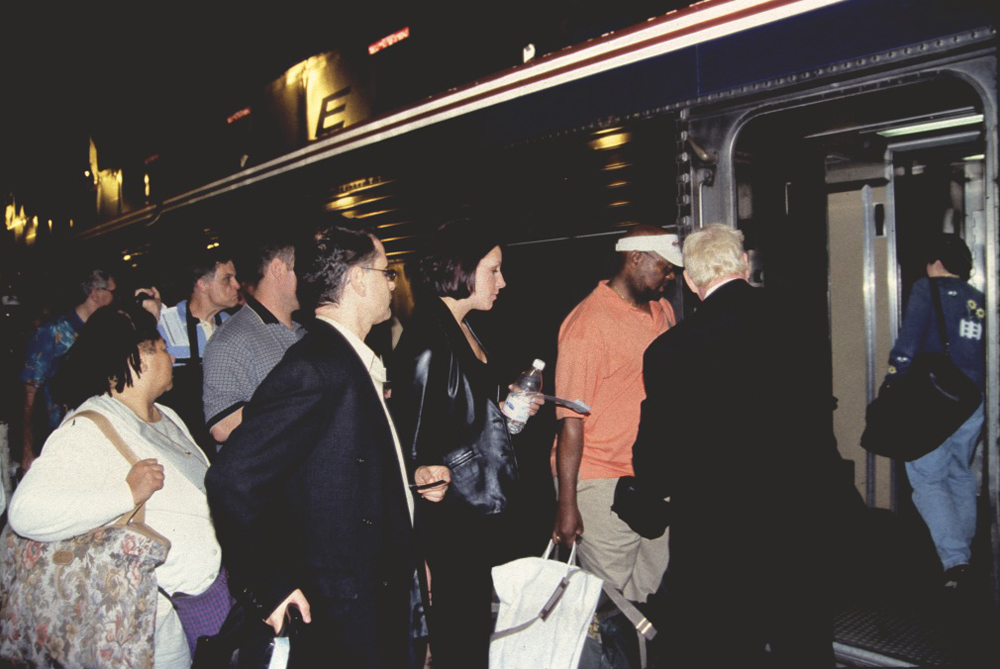 CHICAGO — Travelers all over the U.S. had been stranded for two days after the September 11 attacks, when all air traffic was abruptly grounded. Many Amtrak trains had also been stopped that day as a precaution. While people who had been on the road assumed flights might soon resume, continuing security concerns and the fact that planes were out of position meant the air network wouldn't fully recover for more than a week.
That caused an immediate surge in Amtrak long-distance bookings, as evidenced by the crowds that jammed Chicago's Union Station on Thursday, Sept. 13.
That day, the company offered five daily East Coast departures:
— The recently extended Pennsylvanian at 6 a.m. to New York, via Cleveland and Pittsburgh;
— The Washington, D.C.-bound Capitol Limited at 6:40 p.m.;
— The Lake Shore Limited to New York and Boston, scheduled for 7:10 p.m.:
— The triweekly Cardinal, which at the time was a Chicago-Washington Superliner-equipped train with a Sightseer Lounge and a dining car;
— And at 9:20 p.m., the Three Rivers, which several years earlier had been resurrected on the CSX route the Broadway Limited had vacated in 1995 through Akron and Youngstown, Ohio, to Pittsburgh, where it teamed with the Pennsylvanian to offer a second round trip to Philadelphia and New York.
All of the evening trains were jammed. Amtrak crews at the 16th Street Coach Yard had added every available car to each consist.
Out on track 26, Capitol Limited Conductor Dave Feightner's manifest showed that his train was sold out with 381 passengers leaving Chicago in four coaches and three sleeping cars. The Cardinal was also jammed, departing less than an hour later for the Nation's Capitol.
Unfortunately, mechanical problems on a late-arriving Lake Shore Limited meant that train's departure was set back more than four hours. Perhaps that's one reason station personnel had passengers ticketed on the Three Rivers, a train that along with the Pennsylvanian's Chicago extension, owed its existence to Amtrak's mail and express initiative, form a line stretching into Union Station's Great Hall an hour before departure.
"I could easily sell two sleepers," Three Rivers Assistant Conductor Phil Streby remarks when looking at the line. Three heritage sleeping cars had been refurbished to operate on the train's three equipment sets; there weren't any Viewliners to spare. He says the manifest had 228 people listed earlier; now the number was down to 158 for the 177 available coach seats, but he isn't sure whether that included travelers from a delayed California Zephyr that would miss their connections.
Security precautions were still in place; Amtrak police were giving each train a thorough once-over before passengers were allowed to board. So perhaps a better vantage point to view the Lake Shore, the last eastbound to leave the Windy City that day, was out at the Lumber Street interlocking just south of the diesel shop leads and north of the Chicago River bridge.
When it crawled out of Chicago at 11:02 p.m. that evening there was the usual lone Boston sleeping car, but three Viewliners bringing up the rear for New York. The lights were still on in the six coaches — four to New York and two to Boston. And most windows had someone peering out into the darkness.