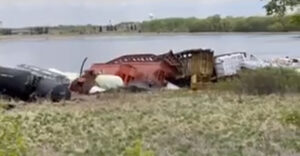 ALBERT LEA, Minn. — Some 28 cars of Union Pacific train MITDM derailed in Albert Lea at approximately 1:45 p.m. today. The southbound train was en route from Itasca Yard in Superior, Wis., to Des Moines, Iowa. The derailment occurred along Goose Lake in Albert Lea, just north of the small UP yard in town, with some cars coming to rest in the lake. The derailment blocked rail traffic on UP's former Rock Island Albert Lea Subdivision, known as the Spine Line.
Several tank cars derailed and the Albert Lea Police Department initially asked residents near the derailment site to shelter in place since they determined there is an "unknown hazardous material leak." KMSP-TV reports two cars are leaking hydrochloric acid. In addition to the tank cars several cars of lumber also derailed.
Trains News Wire will continue to follow this developing story.