Monday morning rail news in brief: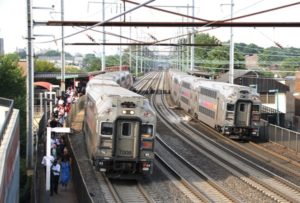 NJ Transit survey shows essential workers relied on service
A survey of NJ Transit riders who used the service at the height of the COVID-19 pandemic shows that essential workers relied on the system while the majority of commuter remained at home. NJ.com reports that of the 88% of regular rail passengers who stopped using the system, 78% worked from home while the other 10% were out of work. Bus service saw less of a drop off, as workers in the health care and food service industries continued to commute. NJ Transit CEO told the news site that the agency would follow up with focus groups to learn more from survey participants, saying "There is some really interesting data coming out."
UP, NS agree to move interchange to end road issues in New Orleans
With involvement from U.S. Rep. Steve Scalise (R-La.) and the chairwoman of the Surface Transportation Board, Norfolk Southern and Union Pacific have resolved an interchange issue that was blocking roadways in New Orleans' Old Metairie neighborhood. The two railroads have agreed to return to their former interchange point away from the residential area. In a press release announcing the agreement, Scalise said the railroads also addressed community safety concerns. "I want to thank Surface Transportation Board Chair, Ann Begeman, for her direct engagement with me to help get this safety issue resolved," Scalise wrote. NOLA.com had previously reported the problem developed because of a unilateral decision by Union Pacific effective April 1 [see "CN says conductor was killed …," News Wire Digest, June 5, 2020].
Buffalo resumes collecting transit fares
Buffalo's Metro Rail and Bus systems will resume fare collection today, while also once again allowing front-door boarding of light rail vehicles and buses. The agency had stopped fare collection and began requiring rear-door entry in March to accommodate social distancing between operators and passengers. The system continues to require face coverings for all passengers.