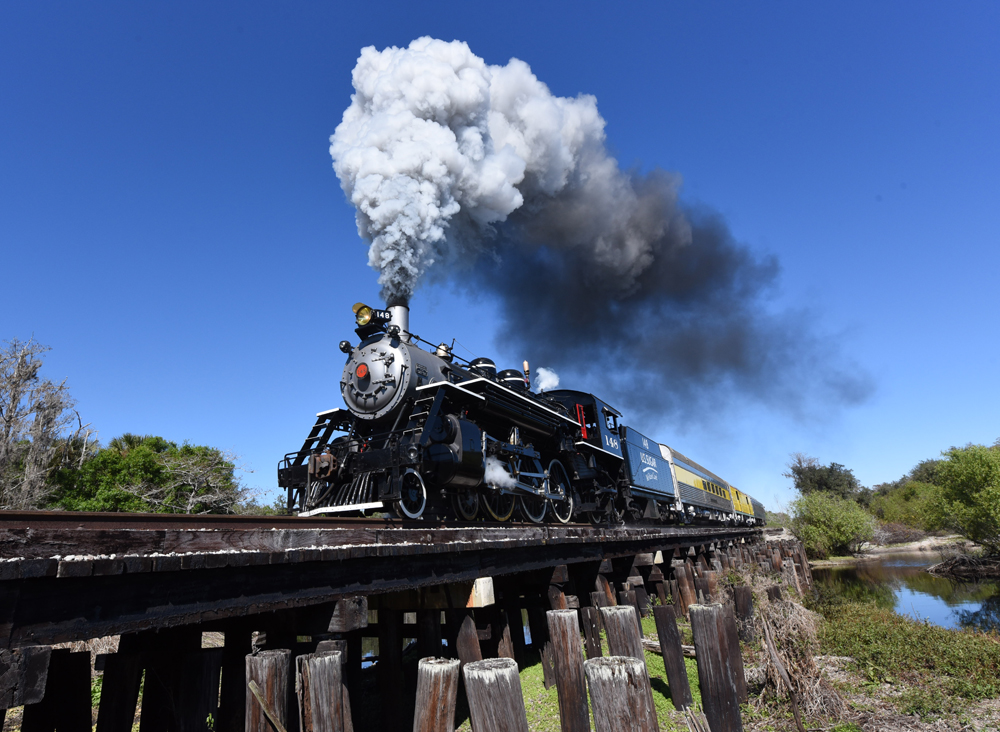 CLEWISTON, Fla. — U.S. Sugar's Sugar Express will operate its restored Alco 4-6-2 steam locomotive, No. 148, on two days of train rides between Clewiston and Moore Haven in April.
Two-hour round trips on April 9-10 will depart Clewiston at 10 a.m., 1 p.m., and 4 p.m. each day.
Each trip will feature No. 148 pulling a first-class passenger train, providing a narrated tour of U.S .Sugar farming operations amidst views of the Florida countryside. Souvenirs and concessions will be available for purchase onboard. Cash will not be accepted and ticket receipts will be emailed for parking and boarding information.
Tickets are $48 per person, and go on sale March 16 at 6 p.m. at the Sugar Express website.
"We're looking forward to seeing more of our friends from the region experience these historic train rides," Operations Manager Scott Ogle said in a press release. "No. 148 has already proven it will draw visitors in from around the country, and we want our neighbors to get an opportunity to enjoy what's coming from the Sugar Express."
The train will include one dining car, one open-air car, and a limited number of lounge seating options. Seats are not assigned and are available on a first-come, first-serve basis during boarding.
Parking and boarding will take place at Basilian Cres and South Deane Duff Avenue, Clewiston, Florida. For best seating options, arrive early for boarding.
No. 148's inaugural run late last year drew passengers from six states. Additional trips this May are being considered as part of U.S. Sugar's annual End of Harvest celebration.