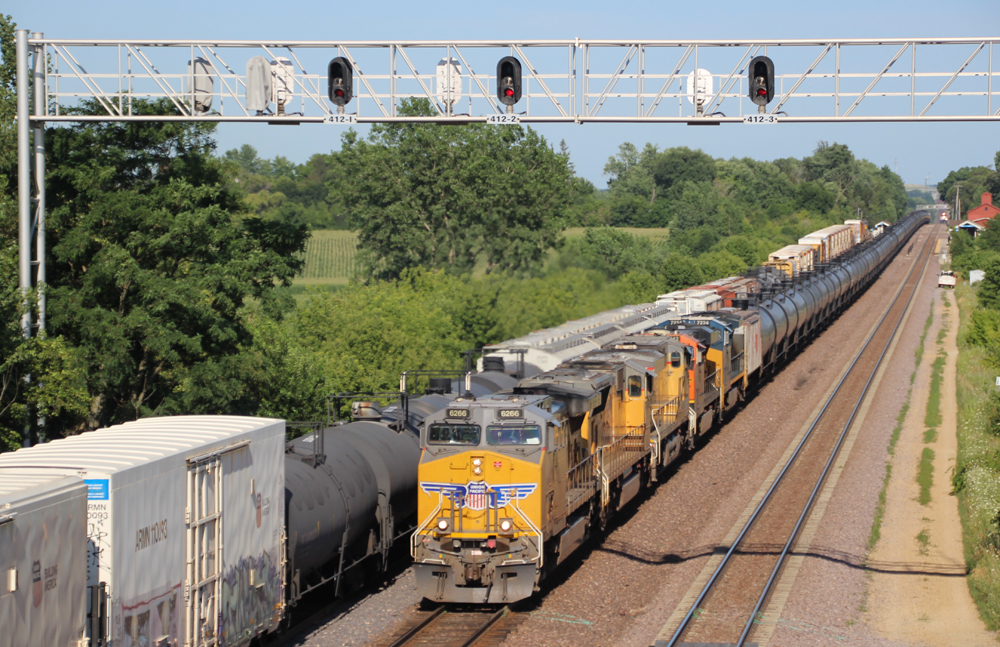 ---
WASHINGTON — Union Pacific is in the Surface Transportation Board's doghouse.
In a letter to UP CEO Lance Fritz today (Thursday, Dec. 8), STB Chairman Martin J. Oberman said the railroad's response to the board's request for information about how and when it issues embargoes fell well short of what regulators were expecting.
The STB last month ordered UP to explain why it has significantly increased its use of embargoes. This year UP has issued more than 1,000 embargoes to date in response to congestion, compared with just 27 in 2017 — the year before it adopted a lean Precision Scheduled Railroading operating model.
In preparation for next week's two-day hearing on the matter, the STB asked UP to address eight embargo-related topics in a filing that was due by Tuesday, including whether it had enough resources to handle traffic demand.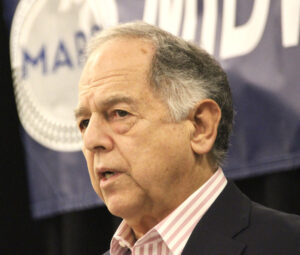 "UP filed with the Board one PowerPoint file containing seven slides," Oberman wrote. "While the PowerPoint addressed in general terms some of the topics listed in the Board's notice, it failed to provide any detail on those topics, and it failed to provide any information or discussion of other topics."
"The PowerPoint presentation is silent on most of the topics listed in the November 22 order," Oberman wrote, adding that the railroad has "hindered the Board in its efforts to understand this increase of embargoes, their causes and impacts."
UP will not be required to provide additional information prior to the hearing because of the tight timeline before the sessions begin on Tuesday.
"It is expected that UP will be prepared to discuss in detail the topics identified in the Board's order at the hearing and to provide the Board with documents responsive to all of the topics listed in the order at the earliest possible date," Oberman wrote.
UP's slide deck explains how the railroad's management of private car inventory protects its serving yards from congestion. Before issuing an embargo, UP considers a number of factors, including the number of cars in the yard and how many cars are expected to arrive over the next four days. When a customer's inventory exceeds its consumption rate, and it will take more than three days to whittle down the excess cars, UP notifies the customer and requests that it adjust inventory within seven days or reduce its flow of inbound cars.
If the customer doesn't meet the target or has not submitted a plan of how it will reduce car inventory, then UP issues a congestion embargo with permits that will allow the customer to ship at half their normal level. Exceptions are made for certain sensitive commodities.
Last month UP notified customers who had excess inventory that they would have an additional seven days to reduce the number of cars before an embargo would be issued.
The board's order, however, asked UP to discuss in detail:
UP's decision-making process in determining to issue an embargo, including underlying causes (e.g., network issues and crew shortages), whether UP's market power plays a role in the decision making, and UP's consideration of alternatives to embargoes;
How UP measures congestion and total excess cars throughout its system;
The explanations for the dramatic increase in embargoes since 2017, including whether UP has maintained sufficient resources during that time period;
UP's practices and policies with respect to notification and outreach to shippers;
UP's consideration of shippers' operational needs, including alternative avenues to meet their shipping requirements;
UP's implementation and use of the Car Inventory Management System;
Whether UP has considered the impact of its embargoes on its common carrier and other legal obligations, and if so, the specifics of that consideration; and
UP's plans, if any, to decrease the need for embargoes going forward.
UP says embargoes mitigate congestion and protect service for all shippers.
"Union Pacific looks forward to discussing with the STB how we use embargoes to control traffic movements temporarily when needed to address congestion," railroad spokeswoman Kristen South says. "We are committed to restoring the fluidity of our network – and with that, the consistency and reliability of our service to all our customers."
UP executives told an investor conference last month that embargoes were a tool of last resort.
This is not the first time UP has irked the board. Earlier this year, the STB said UP's initial service recovery plan was "by far the worst of all the Carriers and reflected an attitude of indifference," adding that it "openly defied the Board's direction."
The board had ordered the big four U.S. systems to explain how they were going to improve service amid ongoing crew shortages. All submitted revised plans that met the board's standards.