CHICAGO — The depth of disagreement between Metra and Union Pacific over commuter rail service on three Chicago-area UP lines is visible in Metra filings with the U.S. Surface Transportation Board seeking to ensure UP continues to provide service on those lines.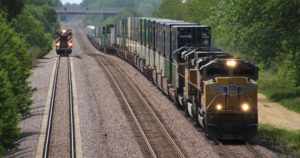 In two filings on Tuesday, Metra asks that the STB to rule that Union Pacific has a common-carrier obligation to provide commuter rail service on the three lines it current operates for Metra under a purchase of service agreement, and that the STB has the jurisdiction to enforce that obligation. The commuter agency also requests a preliminary injunction to prevent UP from ending commuter rail service while the STB considers Metra's request for that ruling. Metra says an injunction is needed "to prevent the irreparable harm to the Chicago commuting public that UP's threatened action will cause."
Metra revealed in a Tuesday press release that it had asked the STB to become involved [see "Metra asks STB for injunction against Union Pacific to maintain commuter service," Trains News Wire, July 21, 2020]. Union Pacific disagreed with the STB's involvement, saying the court case it filed against Metra last December would determine the common-carrier dispute [see "UP sues Metra over commuter operations," Trains News Wire, Dec. 21, 2019]
Union Pacific has responded today to the Surface Transportation Board by filing a 142-page document asking the STB to delay its proceedings at least until a federal court in Illinois rules on Metra's request to dismiss the Union Pacific case. [See "UP says it will lose millions operating trains for Metra," Trains News Wire, July 22, 2020].
Included with the filings is a letter from Metra CEO Jim Derwinski to Union Pacific, in which he responds to a UP plan to begin phasing out support of Metra operations after Aug. 31. That date marks the end of the current extension of the most recent operating agreement between the two parties. Agreeing with UP's characterization that the two sides "remain very far apart" on financial terms, Derwinski wrote that Metra's position is that the current agreement provides "fair payment to UP," while UP's view "seems to be that the compensation is wholly inadequate" and that "Metra must pay more dollars in absolute terms even while UP performs fewer services." He also took exception to UP's plan to stop providing maintenance services as of Oct. 31, writing, "As UP is well aware, the coaches and locomotives cannot be operated if they are not being maintained."
Union Pacific seeks to transfer operation of the commuter trains, as well as the personnel to run and maintain them, to Metra, while maintaining ownership and dispatching control of the lines used by Metra's UP North, Northwest, and West services. In a letter to Metra that laid out its plan for ending various forms of support — also included in Tuesday's filings — UP indicated that it expected the personnel to be transferred to Metra within 90 days of a ruling in its federal lawsuit against the commuter agency. That, Derwinski wrote, "does not take into consideration that there are seven collective bargaining agreements (CBAs) governing UP's unionized employees. … While Metra is in good faith negotiations with those unions, the process is governed by federal law and not in Metra's control." It is "not reasonable," he wrote, "for UP to unilaterally set such an accelerated schedule."
The common-carrier obligation or lack thereof is at the heart of the dispute. A June 30 letter from Cindy Sanborn, UP vice president, network planning and operations, says that "Union Pacific rejects there is any such obligation." Metra contends that such an obligation exists, and because of it, UP must continue to provide commuter service, even in the absence of an agreement.
To support that contention, Metra's filings include a copy of the original 1978 agreement between Metra's parent, the Regional Transportation Authority, and the Chicago & North Western, which operated the three commuter lines until the C&NW was acquired by UP in 1995. It quotes a portion of that 1978 document in which C&NW agreed that if no service agreement was in effect, it would provide commuter service "in accordance with its common carrier obligations." Metra contends that nothing since that time has eliminated that obligation.
Metra's filing say it has subsidized operations of the UP lines "in excess of $2 billion over the past 41 years," including $98 million in 2019 alone — $61 million in operating payments and $37 million to cover fuel, rent, and other materials.
— Updated at 11:30 a.m. with information on Union Pacific filing; updated at 3:15 p.m. with link to story detailing UP filing.