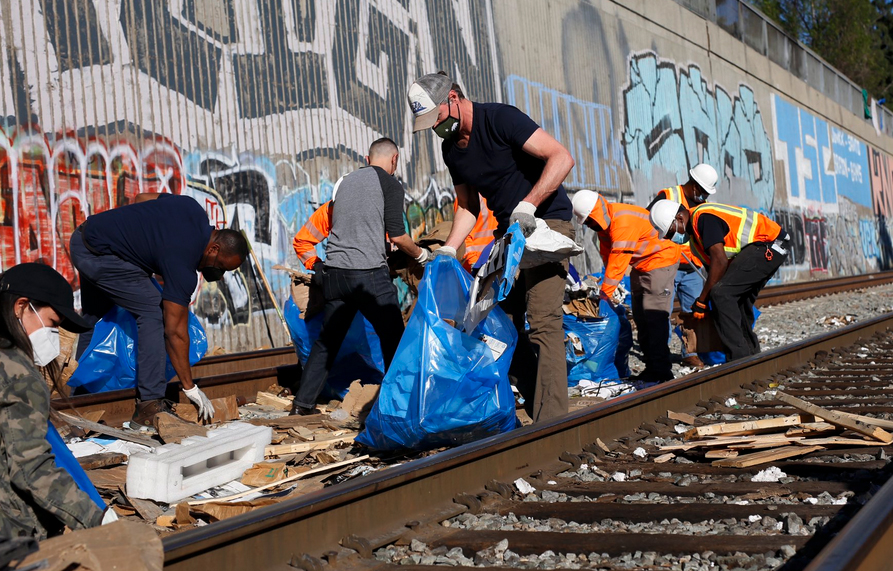 ---
LOS ANGELES — Southern California authorities say they have broken up two crime rings involved in thefts from Union Pacific intermodal trains that drew national attention last year because of images of the trackside area awash in empty boxes left behind after containers were broken into and their contents were stolen — activity that reportedly netted more than $18 million.
The Los Angeles Times reports a law enforcement operation stretching over several months led to more than 700 arrests and recovered millions of dollars in stolen goods ranging from designer handbags to empty coffins.
Los Angeles Police Chief Michel Moore said a task force that attacked the problem "needed police resources outside just LAPD, California Highway Patrol, the Sheriff's Department, law enforcement agencies," and said people's willingness to buy items at a discount "is fueling the greed of receivers to go find individuals who'll go out and who'll commit burglaries."
California Gov. Gavin Newsom eventually visited the location of many of the thefts and announced funding to help combat the problem [see "California governor visits site of train thefts …," Trains News Wire, Jan. 21, 2022] A beefed-up task force, formed in January, found the operations reached as far as Texas and send some of the stolen goods to Mexico. About two dozen members of organized fencing rings have been arrested.
The thefts led Union Pacific to complain about L.A. County District Attorney George Gascon's approach to criminal offenders; Gascon responded by saying the railroad wasn't doing enough to protect its trains [see "LA district attorney responds …," News Wire, Jan. 24, 2022]. UP eventually addressed the problem with actions including a requirement that shippers use stronger locks on their containers [see "Union Pacific to require upgraded locks …," News Wire, Oct. 6, 2022].