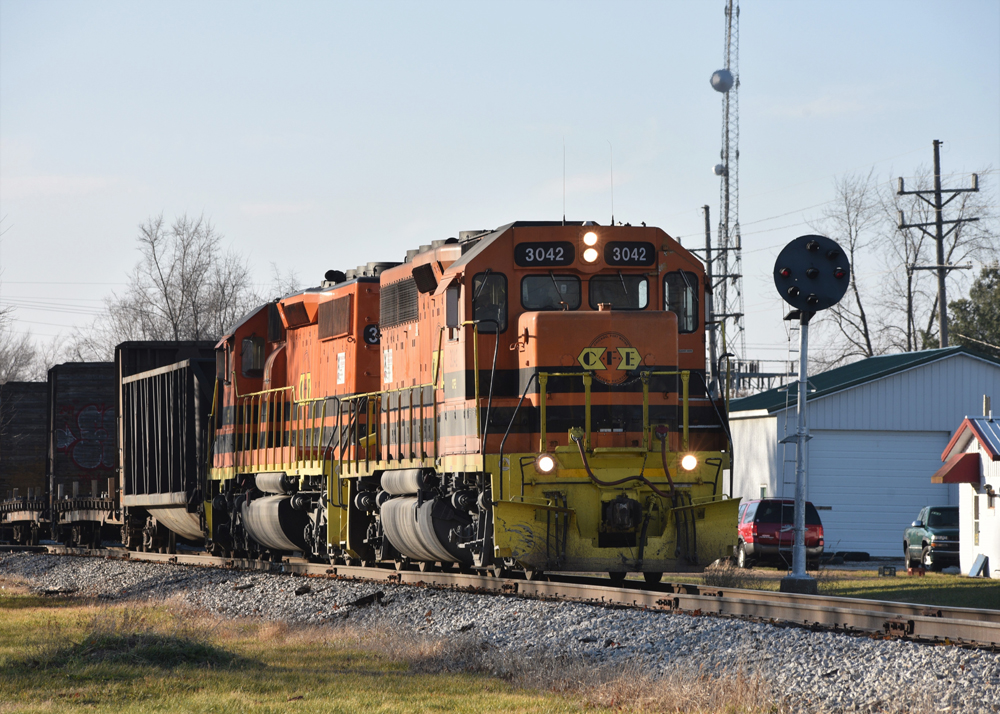 ---
PHOENIX — Along with participation by six Class I railroads and a number of other entities, the National Railroad Construction & Maintenance Association Conference that concluded Saturday featured presentations from three major short line companies. Here's an overview.
Genesee & Wyoming
The largest of the short line holding companies, with 116 properties in North America and Europe, plans to spend $375 million in North America in 2022, up from last year's $358 million and higher than any of the last six years. More than half of the engineering and mechanical budget will go to ties (40%) and rail (17%). Plans under capital and grant spending are for 900,000 ties and 336 miles of rail; 2,189 miles of track surfacing; $37 million for bridges; more than 300 grade-crossing rehab projects and more than 100 new grade crossing signals, and some 54,000 feet of new track, in the form of six sidings and a yard expansion.
Kristen Stone, G&W's vice president procurement, highlighted seven projects receiving significant grant funding:
— On the Indiana & Ohio, a $7.9 million grant for 40,000 feet of rail, 1,5000 ties, 10 miles of surfacing, 10 turnouts, and a 7,450-foot siding in Delta, Ohio.
— On the Chicago, Fort Wayne & Eastern, a $9 million project in Lima, Ohio, to install 10.85 miles of welded rail at eight locations, and reconfigure a yard.
— On the New England Central, a $30 million Build America Massachusetts DOT program covering 240,000 feet of rail, 30,000 ties; 55 miles of surfacing; 30 turnouts, and 16 bridge rehabs; and a $6.6 million Amtrak project including 18,000 ties, 23 miles of track surfacing, CTC extension, rockslide remediation, 12 new grade crossing warning systems and upgrades of 18 others.
— On the Georgia Southwestern, a $5.2 million federal CRISI (Consolidated Rail Infrastructure and Safety Improvements) grant project including 60,000 feet of rail, 8,000 ties, and 10 miles of track surfacing;
— On Virginia's Commonwealth Railway, a $9 million Virginia Port Authority grant for the Suffolk Yard to build two 8,000-foot storage tracks adjacent to the main line;
— On the Puget Sound & Pacific, a $3 million CRISI grant project in Elma, Wash., including 18,000 ties, 11,000 feet of rail, three turnouts, and an 8,000-foot siding expansion.
The company's locomotive plans include 15 rebuilds, purchase of four Tier 4 units, purchase of six GE Dash 8-2B locomotives, purchase and upgrade of 25 GP38-2s, and EPA Tier 0+ upgrade kits for 25 or more units.
Watco
The second-largest short line holding company, with 44 railroads (including the soon-to-be-launched Fox Valley & Lake Superior in Wisconsin), plans to spend $121 million on maintenance capital in 2022, up from about $100 million in 2021. That includes $58 million on track work — $41.2 million on ties and surfacing, $12.1 million on bridge projects, $1.5 million on rail relay, and $3.2 on other areas, such as turnouts and crossing work. Looked at another way, $37 million will go to Watco's Division ! railroads, its largest properties, with $17.1 to Division 2 and $3.9 million to Division 3, the smallest operations.
The year will include two notable projects aided by CRISI grants, funding embraced by Watco, as it is by most short lines. "We are focused on using other people's money to pay for our maintenance projects, that's for sure," said Laura McNichol, Watco's senior vice president, government and industry relations.
On the South Kansas & Oklahoma, a $40 million project — including funding from the namesake states, $12 million from Watco, and $27 million in CRISI money, will lift track speed from 10 to 25 mph on three subdivisions and allow it to handle 286,000-pound standard railcars. It will include resurfacing of 200 miles of track, installation or replacement of 34 miles of 115-pound welded rail, rehabilitation of 27 bridges, replacement of 12 turnouts, and rebuilding of 66 grade crossings. "A very transformational project," McNichol said.
The Eastern Idaho Railroad will see a $9.4 million expansion of Gular Yard in Rupert, Idaho, which will allow the railroad to avoid switching work that blocks a state highway two to four hours a day. It will including extending a yard track, adding a passing track, rail replacement, removal of two of the four tracks that cross the highway, and improvements at two grade crossings.
Patriot Rail
Wrapping up the three-day conference was Patriot Rail, which operates 13 short lines totaling 630 miles, a tourist railroad, and five rail-related service companies. It will be contracting for 50,700 crossties, 1,400 switch ties, 57 miles of surfacing, and 33,400 feet of rail installation in 2022 across its four regions. There will also be additional work involving signaling, culverts, grade crossings, and turnout replacement.
Three notable new-construction projects are planned. Two are in Salt Lake City: 3,500 of track and installation of four turnouts, and construction of a classification yard with between 10,000 and 30,000 feet of track. The other will involve construction of 6,000 feet of track and installation of four turnouts in Homer, La.