The Class I railroads that have embraced E. Hunter Harrison's Precision Scheduled Railroading operating model say their service is faster and more dependable, and that their evolving online tools make it easier for customers to do business with them.
Shippers beg to differ.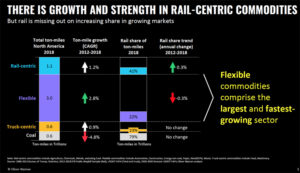 In an Oliver Wyman survey of rail customers in seven industries, every single shipper overwhelmingly preferred trucks based on the three items most important to them, including on-time performance, shipment visibility, and the availability of equipment and capacity.
"PSR has not yielded positive results in service, transit, or reliability," one automotive shipper told the global consulting firm. "We didn't get faster or more reliable."
Railroads continue to bleed market share to the highway and stand to lose $177 billion in revenue by 2030 if current trends continue, Adriene Bailey, a partner at Oliver Wyman, told the RailTrends 2020 conference on Thursday.
There's no doubt that Precision Scheduled Railroading has improved profitability and benefitted shareholders.
"But the true test is whether these more efficient operations and the capacity dividend that's been delivered can really translate into a material and sustainable growth trajectory for the railroads," Bailey says. "We think it can."
Between 2012 and 2018, railroads slightly grew their share of rail-centric commodities that consist of heavy, bulky, and low-value shipments. Trucks, meanwhile, maintained their share of truck-centric high-value commodities such as perishables.
Sitting in the middle of those two extremes is jump-ball traffic that could move via highway or rail. More than half of freight ton-miles in North America fits into this "flexible" category, Bailey says.
"Where there is the highest opportunity — and where the railroads' share has not been moving in the right direction — is again in the flexible category, freight that has a choice. Flexible commodities are the largest, fastest growing sector of the freight market and it's the place where the railroads have a tremendous upside potential," she says. "And over the last six years we have not been capturing that potential and we are seeing a slow but steady decline in share in that category."
Bailey says railroads need to do three things to win more flexible traffic: Fit better into supply chains, improve the transit experience, and become customer-centric.
Railroads need to be flexible and responsive — and understand each customer's entire supply chain — in order to remain relevant, Bailey says. Unlike a decade ago, shippers now calculate the entire cost of each shipment and weigh factors such as on-time performance and the carrying cost of inventory in transit. This narrows rail's cost advantage over truck.
Railroads also need to provide on-time and reliable delivery, Bailey says, while providing real-time shipment visibility. And they need to proactively solve problems that arise when a shipment is delayed en route.
Shippers also want railroads to offer a better customer experience, from simpler online tools to more responsive customer service. They also expect railroads to be accountable for service failures and provide service metrics that are relevant to the customer.
The Oliver Wyman survey included rail customers in seven industries, including automotive, food, chemicals, metals, retail, oil and gas, and logistics firms.
"The automotive industry, like the rest of the shippers that we talked to, regularly and unanimously said they desire to do more with rail," Bailey says.
But rail fell far short of truck on service, ease of doing business, and customer focus, she says. As a result, even a rail-friendly industry like automotive is turning away from railroads.
"We have reduced the number of facilities that are rail-served in the last 10 years. We have shut down rail-served plants and we have reallocated rail loading/unloading space to other activities with a higher value proposition," says one automotive shipper who now trucks shipments farther than ever.
Shippers in other industries are building new facilities without rail spurs or considering whether the locations can easily be served by intermodal. "They are essentially dealing rail out of the deck in many cases," Bailey says. "And that is a major issue."
Some automakers are resorting to shipping new vehicles from Mexican assembly plants to the U.S. by water. "It is a symptom of the fact that the shippers are frustrated and are looking for any way that they can to try to create a higher reliability product where they have less reliance on the railroad," Bailey says.
Railroads can reverse these trends if they want to change.
"This is not a story of doom and gloom," Bailey says. "There is absolutely a huge opportunity for the railroads to continue to take advantage of the efficiency and capacity dividend that they have generated over the past three years through all of the work that they've done and turn this into a growth story."
The RailTrends conference is sponsored by independent analyst Anthony B. Hatch and industry trade publication Progressive Railroading. It was held virtually this year due to the COVID-19