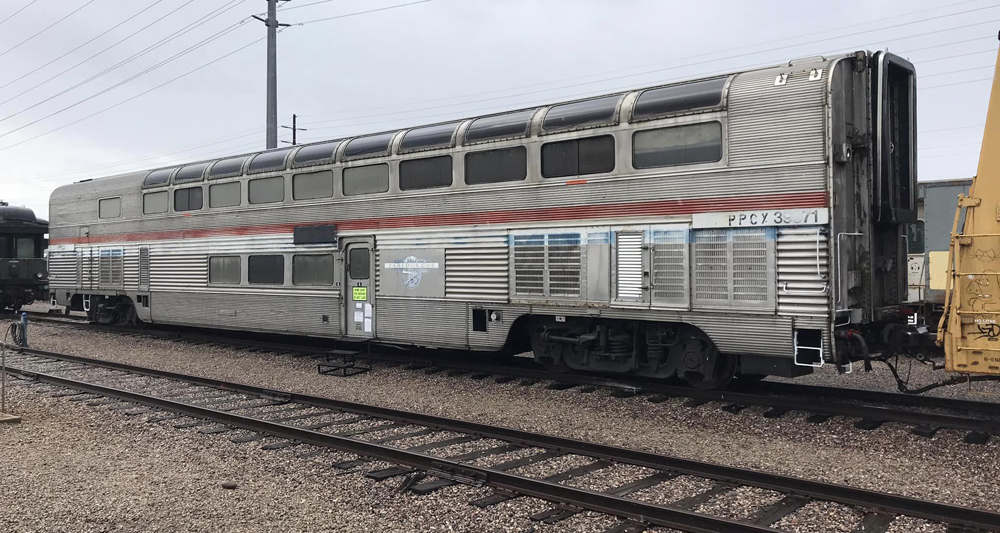 ---
CHANDLER, Ariz. — The Arizona Railway Museum has acquired former Santa Fe hi-level lounge No. 576. The car arrived at the museum last month
Six hi-level lounge cars with curved glass roofs were built for Santa Fe by Budd in 1956. They were numbered 575–580 and operated on the all-coach El Capitan streamliner between Chicago and Los Angeles. Amtrak acquired the cars in 1971 and numbered them 39970–39975. Five cars were upgraded in the mid-1990s as "Pacific Parlour cars" for Amtrak's Los Angeles–Seattle Coast Starlight, and were named them after wineries on the route. No. 576/39971 was never upgraded and was used as a spare, although the Pacific Parlour logo was placed by the center door. The Pacific Parlour cars were retired in 2018 and sold.
No. 576 was purchased by museum member and private car owner Dave Hoffman in 2003 for his Northern Sky Rail Charters and stored at Gateway Rail in Madison, Ill. Hoffman donated the car to the museum.
The car joins two other Santa Fe hi-levels at the museum: coach No. 708, also built by Budd in 1956 for the El Capitan, and coach-dormitory No. 543, built in 1964 for the San Francisco Chief. Several other Santa Fe streamlined passengers cars are also owned by the museum, including Super Chief Pleasure Dome No. 504, and square end observation cars Vista Canyon and Denehotso.
More information is available at the museum website.