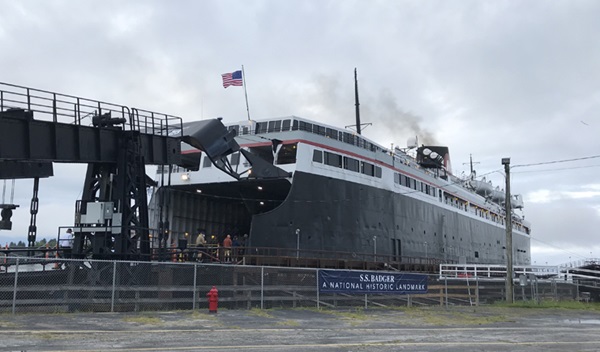 ---
LUDINGTON, Mich. — The historic Great Lakes car ferry, S.S. Badger will receive a $600,000 grant from the U.S. Department of Transportation's Maritime Administration (MARAD).
The contribution will go towards an ongoing feasibility analysis to convert the coal-fired steamship into a zero-emission ferry vessel, according to the DOT press release on Sept. 21, 2023. "The project will facilitate the safe, sustainable, and efficient transfer movement of three types of freight: traditional semi-trailers, oversize loads, and project cargo," as stated in the release. "The service offers customers a more economical and efficient transportation route which allows truckers to avoid a 350-mile trip through Chicago on the heavily congested I-90."
In service since 1953, the Badger is the last remnant of railcar ferries on the Great Lakes. The former Chesapeake & Ohio vessel is owned and operated by Lake Michigan Carferry, as a subsidiary of Interlake Holding Co., and provides daily crossings seasonally between Ludington and Manitowoc, Wis. The vessel can carrying 600 passengers and up to 180 vehicles per trip.
The 2023 season which would've gone into October was suspended in August due to a failure of the counterweight system on the Badger's loading ramp in Ludington on July 21 [See "S.S. Badger season ended by loading-ramp failure," News Wire, Aug. 2, 2023].