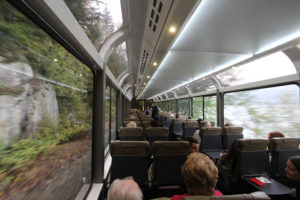 DENVER — Canadian rail tour operator Rocky Mountaineer will utilize its glass-topped single-level coaches and introduce a lounge car as part of a new SilverLeaf Plus class when it begins operation from Denver to Moab, Utah, next August.
The "Rockies to Red Rocks" cruise operation announced last week [see "Digest: Rocky Mountaineer to launch Colorado-Utah route," Trains News Wire, Nov. 19, 2020], won't offer the bilevel GoldLeaf domes that operate on its routes to Banff and Jasper, Alberta. That's because those cars, with open air platforms and a lower-level dining area, are taller than Amtrak's Superliners and won't clear all 28 tunnels on the former Denver & Rio Grande Western route.
The SilverLeaf coaches, former Canadian National cars that Rocky Mountaineer inherited when it took over VIA Rail Canada's daytime operation in 1990, were modified with wide side and clerestory windows. Passengers may leave their seat to take turns at the car's Dutch door for some fresh air, but are otherwise obligated to stay in one place for most of the trip.
For a $395 per person premium on the two-day tour that starts at $1,250 per person, patrons in a separate SilverLeaf coach will have access to a lounge car with all beverages included and an enhanced menu. Rocky Mountaineer spokeswoman Nicole Ford tells Trains News Wire this will be one of two cars have been chartered by groups traveling on the Canadian routes, refurbished for the U.S. operation.
Company founder Peter Armstrong told travel agents in a video that Rocky Mountaineer has been seeking another route for 10 years. It is not its first foray south of the border. Between 2013 and 2018 it offered a once-weekly "Coastal Classic" round-trip from Vancouver, B.C., to Seattle as an add-on to its established itineraries.
That train operated as an Amtrak charter utilizing operating crews who also handled two Amtrak Cascades round-trips, but the new all-U.S. operation will be totally independent.
"We expect to work closely with Amtrak to not impact their schedule in any way, and the plan is to have our trains operated with Rocky Mountaineer crews," explains Ford, though she says the motive power has not been confirmed yet. In Canada, the trains operate with a power car and the company's own locomotives.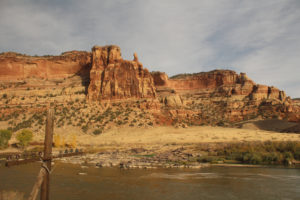 Anyone who has traveled the California Zephyr has been wowed with scenery on the climb out of Denver and a series of canyons on both sides of Grand Junction, Colo., but the new two-day excursion will offer views never seen from a passenger train. The train will peel off the Union Pacific's Denver-Salt Lake City route just west of the Colorado-Utah state line at Brendel, Utah, where the 37-mile Cane Creek Branch was constructed by the D&RGW in the mid-1960s to capture potash business. The trackage never hosted passenger service and didn't directly serve nearby Moab, Utah, which is about 25 miles south of the junction. Ford says the exact point where a platform will be established for a motorcoach transfer is still to be determined.
Passengers interested in riding can book in either direction, with packages on the western end available to and from both Salt Lake City and Las Vegas, Nev. Trains will leave Denver on the 194 miles to Glenwood Springs at 9 a.m. and travel "at Kodak speed" of 30 mph, according to a webinar for travel agents last week. The train will arrive in Glenwood Springs for its overnight stop at 5 p.m. Departure the next morning is at 7 a.m., with a noon arrival at the location near Moab.
The eastbound train will turn the same day, departing at 3 p.m. for Glenwood Springs; Denver arrival the next day will be at 5 p.m.
Zipping through Ruby Canyon west of Grand Junction has long been the icing on the cake for California Zephyr passengers who had experienced passage through Gore and Glenwood canyons earlier in the day, and a tempting appetizer for their eastbound counterparts. Though considerably more expensive, the new Rocky Mountaineer venture will finally allow passengers to get off and explore this unique and unsung area.
More information and a promotional video is available here.