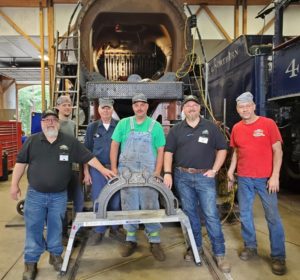 American Steam Railroad, which is restoring Reading T-1 4-8-4 No. 2100, has received a notable assist in its efforts from the Reading, Blue Mountain & Northern Railroad, which is restoring sister locomotive No. 2102. While visiting the Reading & Northern shops in Port Clinton, Pa., to inspect the progress on 2102, the American Steam group received the gift of a new fire door casting, courtesy of the R&N and its owner, Andy Muller. The cast iron piece, weighing more than 130 pounds, was made by a local foundry near the Port Clinton shops. American Steam says it will save the group money and resources that can be used on other aspects of the 2100's restoration.
"The Reading, Blue Mountain & Northern believes in supporting groups like these, to continue to educate the public about railroads," Mike Fisher, general manager for RBM&N passenger operations, said in a press release.
The railroad's history of helping with preservations includes assisting with operation of Central of New Jersey 0-6-0 No. 113, the Colebrookdale Railroad in Boyerstown, Pa., the Fort Wayne Railroad Historical Society's visit with Nickel Plate Road No. 765 in 2015, and National Railway Historical Society chapters in eastern Pennsylvania.