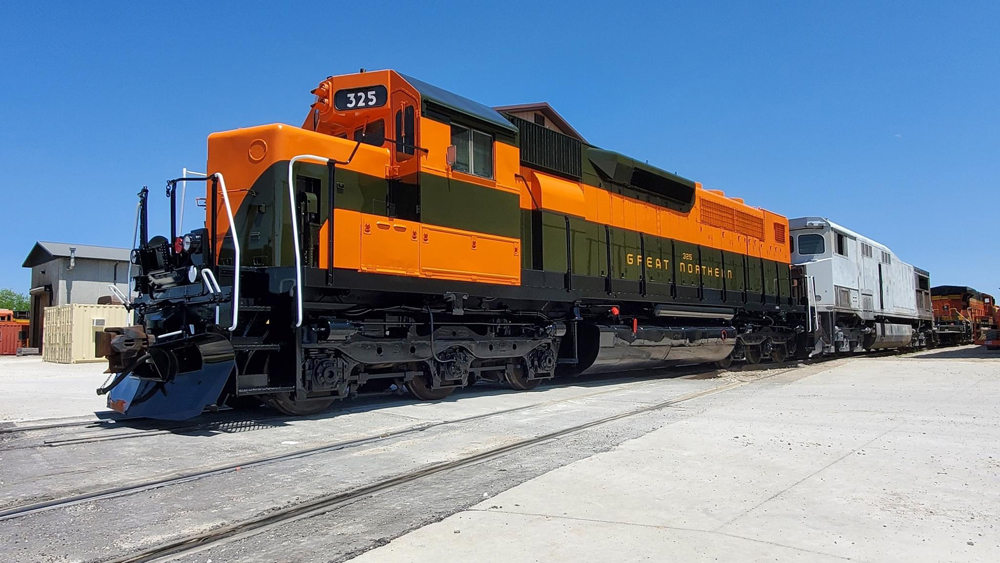 ---
ST. PAUL, Minn. — Locomotive contractor RELCO of Albia, Iowa, has completed repainting Minnesota Transportation Museum's Great Northern Railway SDP40 No. 325 into GN's simplified orange and green color scheme. The only remaining work is application of Great Northern logos on the cab sides.
In February the museum announced a member had agreed to fund the over $60,000 cost to have the engine repainted from Burlington Northern Cascade green into GN colors, and it was sent to RELCO over the winter.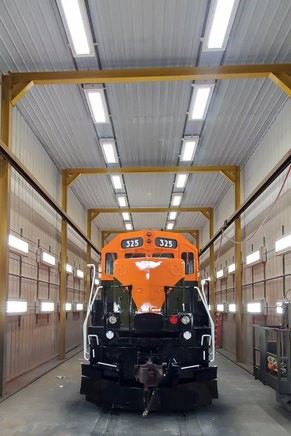 Great Northern 325 was built by EMD in 1966, one of six 3,000-hp SDP40s GN purchased for passenger service. Only 20 SDP40s were built between 1966 and 1970 for GN and National Railways of Mexico. Transferred to freight service upon Amtrak's inception in 1971, No. 325 operated under various numbers for GN successor Burlington Northern and BNSF Railway until it was retired in 2008. BNSF donated the locomotive to the museum in 2009, and it has been a mainstay of MTM's heritage railway, the Osceola & St. Croix Valley, based in Osceola, Wis., since its donation.
MTM also has a large collection of GN passenger cars painted in the orange and green colors, several of which are also being repainted in orange and green.
Great Northern adopted its Omaha Orange and Pullman Green colors in the 1940s with its first order of FT diesels. The most famous application of the scheme came in 1947 when new streamlined Empire Builders went into service between Chicago and Seattle/Portland. Subsequent orders for streamlined passenger equipment by GN all wore the colors, as did its diesels.
In the early 1960s GN simplified the scheme on its diesels by eliminating some striping; it is this scheme No. 325 was delivered in and now wears again.
Once back from Iowa, the unit will pull trains on the Osceola & St. Croix Valley this summer. Trains Magazine is planning a photo charter with No. 325 and Great Northern passenger cars this fall, check back with News Wire for an announcement about this trip.
For more information on the museum and Osceola & St. Croix Valley, visit the museum website.