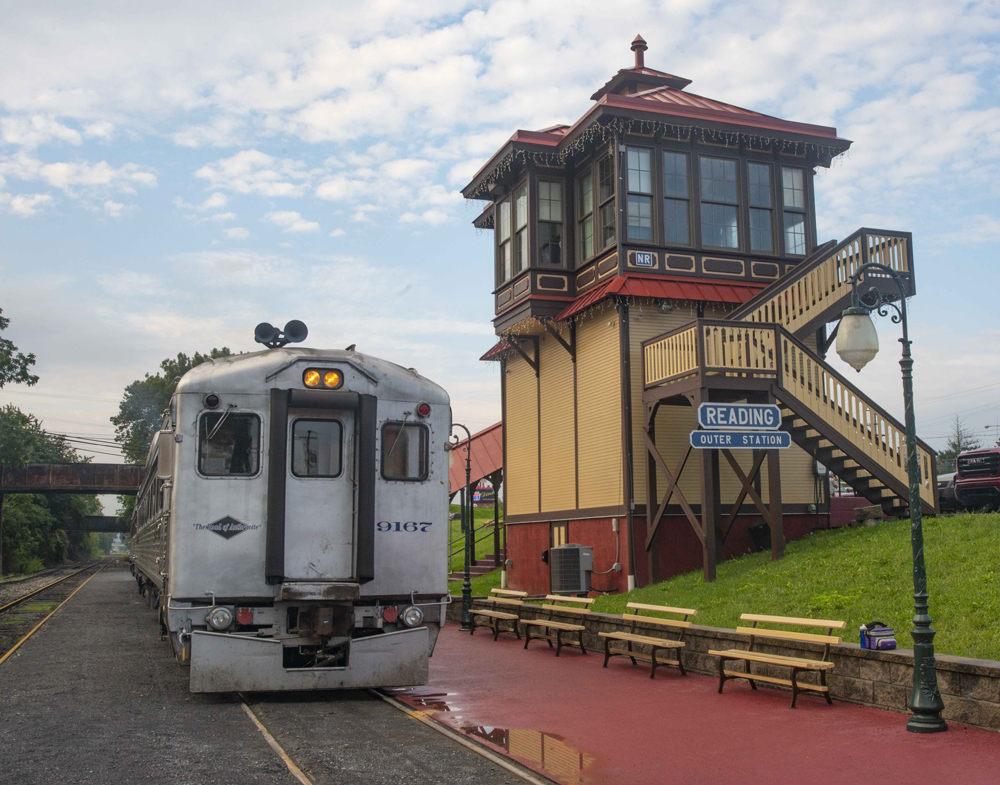 GIRARDVILLE, Pa. — Passengers got a rare look at the normally freight-only Mahanoy & Shamokin Branch of the Reading & Northern Railroad Monday, Aug. 23, as well as a short course in 19th century Reading Railroad/mining labor history.
One hundred twenty riders climbed aboard two Budd Co. Rail Diesel Cars at R&N's Outer Station in Reading, Pa., for a 130-mile-long round trip. The train ran north over R&N's main line to East Mahanoy Junction, then west over the M&S in the heart of Pennsylvania's coal-rich Western Middle Anthracite Field.
The nine-hour trip was sponsored by the National Museum of Industrial History in Bethlehem, Pa., as a prelude to the Society of Industrial Archaeology's annual meeting, which starts today (Tuesday, Aug. 24) in Bethlehem. The excursion was coordinated by Nick Zmijewski, archivist at the Industrial Archives & Library in Bethlehem (formerly a staff member at the state-owned Railroad Museum of Pennsylvania in Strasburg), working with Matt Fisher, R&N's general manager of passenger services.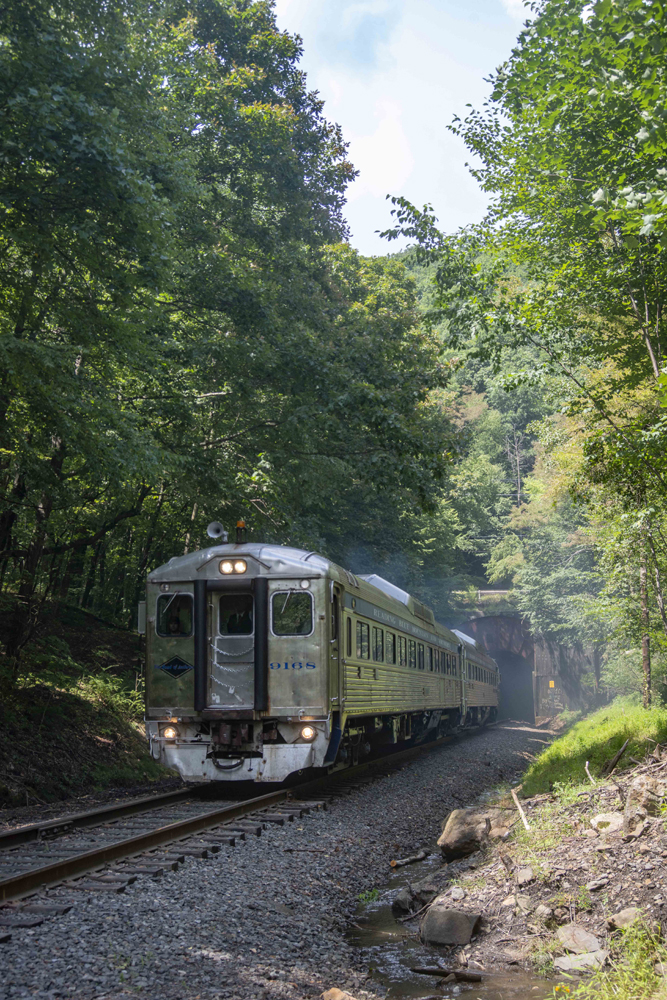 The M&S Branch was once part of the Reading Railroad's main line from Philadelphia to Shamokin, Pa., and beyond to Williamsport, Pa., route of the onetime flyers King Coal and Williamsporter. In the 1920s, 14 weekday passenger trains served Girardville, the turn-back point of the R&N trip. Many of Reading's 51 steam-powered Iron Horse Rambles (1959-1964) also traveled the line. Scheduled passenger service on the M&S ended when the remnant of the King Coal made its final run on June 28, 1963.
A highlight of the day was a photo stop at the east portal of the 3,411-foot-long Buck Mountain Tunnel, the walls of which contain coal seams. The train also made a visit to R&N's headquarters town of Port Clinton, Pa., for a tour of the railroad's steam shop, where ex-RDG Class T-1 4-8-4 engine No. 2102 (Reading Shops, 1945) is under restoration to operating condition. No. 2102 was one of four T-1 engines to power the original Iron Horse Rambles.
Passengers also visited the Hibernian House tavern in Girardville, formerly owned by coal miner and saloonkeeper "Black Jack" Kehoe, who with others was prosecuted by Franklin B. Gowen, a lawyer who also headed the affiliated Philadelphia & Reading Railroad (predecessor corporation of the Reading), Philadelphia & Reading Coal & Iron Co., and Philadelphia & Reading Coal & Iron Police. Kehoe and others were alleged members of a secret militant Irish labor society known as the Mollie Maguires, and were accused of conducting violent strikes against the combined railroad and coal company.
Largely due to Gowen's dubious handling of the case, Kehoe and 19 others were hanged in 1877-78 for murder and other crimes. At the Hibernian House on Monday, R&N passengers heard this story firsthand from a great-grandson of Kehoe, Joe Wayne, who personally fought for more than a decade to clear the name of his ancestor posthumously through a gubernatorial pardon. He was ultimately successful, but it didn't occur until 1979. (More information is available at the Kehoe Foundation website and the online SNAC archive.)
As a result of antitrust legislation, joint ownership of railroads and coal mining operations by Reading, Lackawanna, Lehigh Valley and others was banned in the 1920s.
— Updated at 8:45 p.m. on Aug. 24 to correct name of coalfield in second paragraph to Western Middle Anthracite Field.