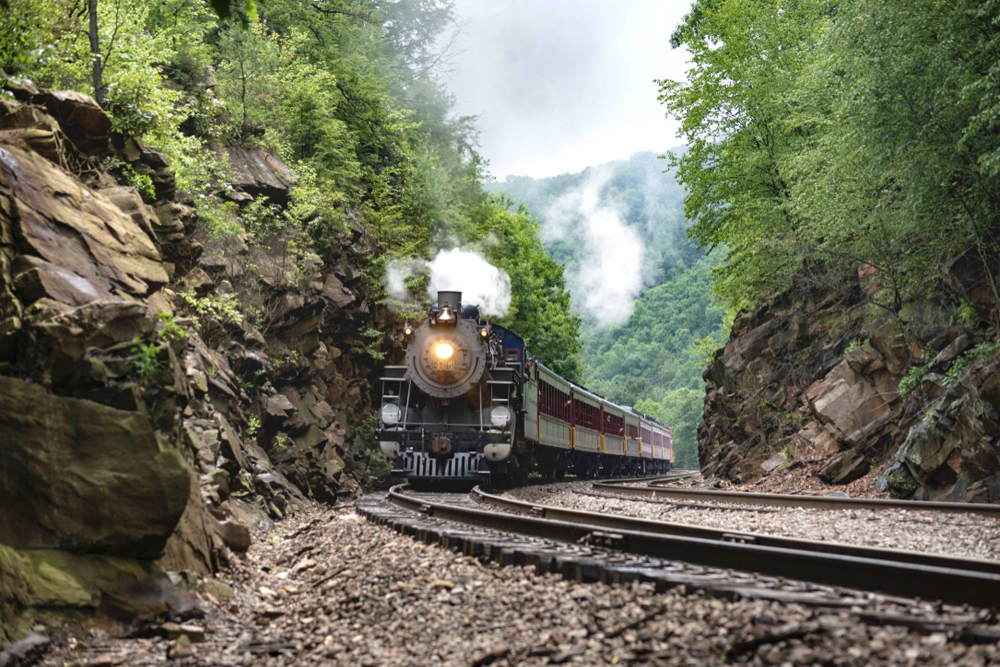 PORT CLINTON, Pa. — The Reading & Northern Railroad has purchased 11 passenger cars from the fleet formerly owned by the San Luis & Rio Grande Railroad, the Colorado operation of bankrupt Iowa Pacific Holdings. Among the cars bought at auction are several notables, including the former Southern Railway steam program open-air coach Lookout Mountain and the former Illinois Central streamlined observation-lounge car Mardi Gras.
These 11 cars will augment R&N's fleet of some 30 passenger cars currently used in steam, diesel, and Budd Co. Rail Diesel Car excursion service over portions of the company's 400-mile system in east-central Pennsylvania. Many of its runs operate to, or originate from, the tourist town of Jim Thorpe, Pa., with especially scenic trips running through the Lehigh Gorge State Park north of Jim Thorpe. R&N's existing coach fleet is largely made up of former Jersey Central, Reading ex-MU and Lackawanna ex-MU cars.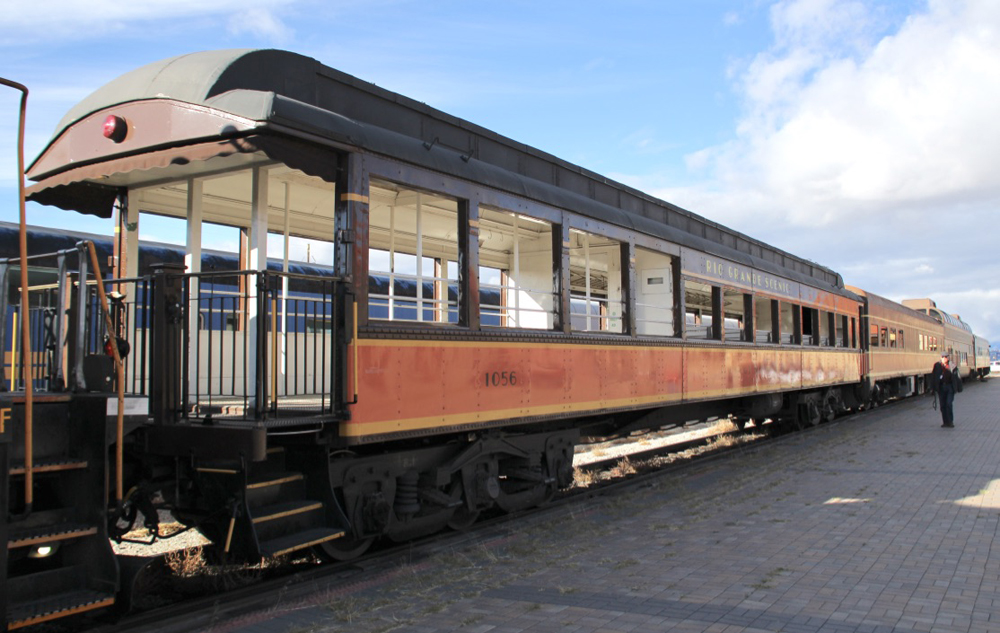 The additions – offering coach, parlor, dome, and lounge seating – will facilitate R&N owner Andy Muller Jr.'s intention to expand passenger service to the Scranton/Wilkes-Barre, Pa., area, a region that R&N now serves only with freight trains.
Now with more than 200 employees, R&N started life in 1983 as the 13-mile-long Blue Mountain & Reading Railroad. It has since grown into a major regional freight operator on former Reading, Jersey Central, Lehigh Valley, Lehigh & New England, and Pennsylvania Railroad trackage. In 2002, 2011, and 2015, the trade journal Railway Age named R&N as its Regional Railroad of the Year. Starting with BM&R, R&N has run passenger trains for 36 years, including with its former Reading Co. T-1-class 4-8-4 steam engine No. 2102, currently under restoration.
Cars have varied histories
Many of the San Luis & Rio Grande cars are well traveled, having been acquired from excursion operations, short lines, and tour operators nationwide. Here's a rundown of the cars R&N purchased:
— Former SL&RG No. 59, a full-length "Super Dome" car built by Pullman-Standard in 1952 as part of a 10-car fleet for the Milwaukee Road's Olympian Hiawatha and Twin Cities Hiawatha service. Built as Milwaukee No. 59, it will join another former Milwaukee full-length dome already on the roster, R&N No. 4, Lehigh Gorge, formerly Milwaukee 55. The newly acquired car will become R&N No. 5. It formerly ran on Amtrak trains as car No. 9383 and subsequently in tour-agency service. It differs from R&N No. 4 in that its appearance was modified with the addition of fluted-side skirting.
— Former SL&RG 1056, Lookout Mountain, ex-Southern Railway No. 1595, a 60-seat heavyweight coach rebuilt by Southern as a 44-seat open-air car for that railroad's (and successor Norfolk Southern's) steam program, which operated for 30 years, 1964-1994. It will become R&N No. 20.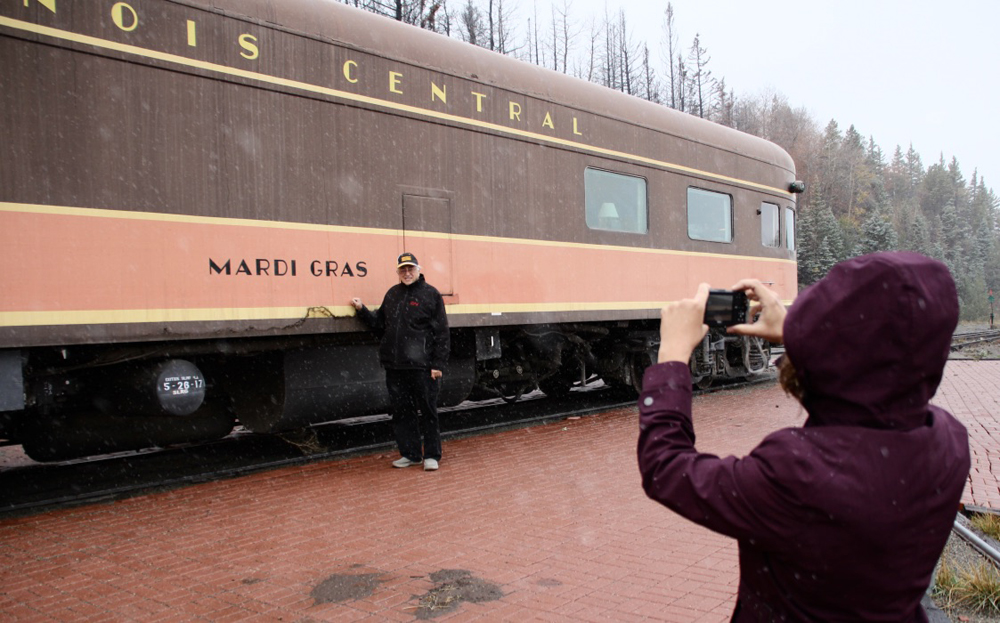 — Former SL&RG No. 3305, Mardi Gras, a streamlined observation-lounge rebuilt in 1947 from Illinois Central 1916 heavyweight 88-seat coach 2188 to serve on the City of New Orleans, IC's secondary intercity train on the Chicago-New Orleans route. This car has a long history in excursion service for the New Orleans and Roanoke chapters of the National Railway Historical Society. It will become R&N 7.
— Former SL&RG NO. 3378, Calumet Club, built by Pullman in 1918 as IC 88-seat coach No. 2211 and rebuilt in 1952 as a streamlined flat-end parlor-observation-lounge car. It will be renumbered R&N No. 6.
— Former SL&RG No. 2904, originally IC heavyweight coach No. 2221, will become R&N 450.
— Former SL&RG No. 1062, Chuchara Valley, formerly Canadian National heavyweight coach No. 5067. It will become R&N No. 1165.
— Former SL&RG No. 1066, a 46-seat heavyweight coach, originally Southern 60-seat coach No. 1649. To become R&N No. 451.
— Former SL&RG No. 1067, Gila Valley, a 46-seat heavyweight coach, originally Southern 60-seat coach No. 1670. Will become R&N No. 452.
— Former SL&RG No. 1068, San Luis Valley, a 46-seat heavyweight coach, originally Southern 60-seat coach No. 1668. Will be renumbered R&N No. 453.
— Former SL&RG No. 1125, Ellerslie, a streamlined sleeper, built by Pullman-Standard in 1954 for Canadian National and later operated by VIA Rail Canada. An eight-duplex-roomette, four-double-bedroom, four-roomette car, it will be renumbered to R&N No. 1125.
— Former SL&RG No. 448, originally New York Central diner No. 448 and later Penn Central No. 4548, and subsequently owned by the High Iron Co. excursion operation. A streamlined stainless-steel car built by the Budd Co. in 1947, it will become R&N No. 1166.
Earlier this year, R&N purchased a previously leased 19.5-mile line for $4.7 million that connects its Reading and Lehigh divisions, providing a seamless connection between Reading, Pa., and Scranton, Pa. [see "Digest: Reading & Northern owner plans to spend $4-5 million …," Trains News Wire, May 10, 2021]. R&N passenger trains between Reading and Jim Thorpe have been using the line for some time.