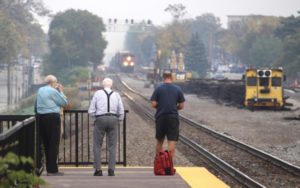 WASHINGTON — A late 2020 deadline is approaching for railroads and transit systems to submit plans on how they plan to comply with new Transportation Security Administration rules on security training.
The new regulations require freight railroads, passenger railroads and designated "higher risk" transit systems to submit plans on how they will comply by Dec. 21, 2020.
The new rules build on existing regulations. All Class I railroads and any freight railroad that acts as a host railroad for a Class I carrier or passenger operator are subject to this regulation, as well as hazardous materials shippers and those operating within a designated "high threat urban area." The TSA lists 46 such areas in 28 states and the District of Columbia.
Amtrak, Caltrain, Metrolink, Metra, and Virginia Railway Express are among the passenger railroads that must comply, as well as 46 specific transit systems including Bay Area Rapid Transit, LA Metro, Washington Metro, New York MTA, Chicago Transit Authority, New Jersey Transit, the Southeastern Pennsylvania Transportation Authority, and the Massachusetts Bay Transportation Authority.
The TSA estimates the total cost to the freight railroad industry at $35.2 million over a 10-year period. For all affected passenger rail and transit operators, the total is estimated at $23.8 million over the same period.
"The regulation isn't as onerous as it may appear," said Harry Schultz, section chief at the TSA.
Each railroad or transit agency must have a security coordinator and at least one alternate security coordinator, and they must be accessible to the TSA 24 hours a day, seven days a week. Significant security violations must be reported to the TSA within 24 hours.
Security training must be provided to any employee or contractor operating, inspecting or maintaining a transportation vehicle and to those responsible for dispatching. Workers who come into contact with the traveling public, such as ticket agents and onboard train staff, are also included, as well as those responsible for loading or unloading cargo or baggage.
Others required to undergo security training include workers inspecting or maintaining buildings or other railroad infrastructure such as bridges and tunnels. Railroad security personnel must also take the required training.
Specific security threats identified by the TSA include attempts to enter restricted areas, tampering or vandalizing rail facilities, locomotives or rolling stock, and carrying suspicious items, weapons or explosives on or near rail property.
Railfans should note that watching railroad or transit operations, or taking photographs, may in some instances be considered a security threat. Part 1570 of the regulations includes as examples "taking photographs or video of infrequently used access points, personnel performing security functions (for example, patrols, badge/vehicle checking), or security-related equipment (for example, perimeter fencing, security cameras)."
"Loitering near conveyances, railcar routing appliances or any potentially critical infrastructure" may also trigger the interest of security officials. "Observation through binoculars, taking notes, or attempting to measure distances" are cited in the regulation as suspicious activities.
Additional information is available on the TSA website at https://www.tsa.gov/for-industry/surface-security-training-rule.