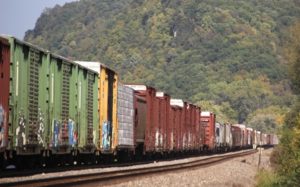 NORFOLK, Va. — A consortium of railroads and freight car companies are combining on a new venture to create advanced monitoring of the North American railcar fleet through GPS and other technologies. Rail Pulse is an effort involving Norfolk Southern, GATX Corporation, Trinity Rail, and shortline holding companies Genesee & Wyoming and Watco Companies.
A Norfolk Southern press release issued Wednesday says the system will initially be developed to track hand brake and impact data, which could provide significant safety information, and later could provide information on wheel bearing temperature and wheel impact detection. The technology will also be used to provide better data on the status, location, and condition of individual railcars. Development will begin later this year, with the goal of having a system available by the end of 2022.
The effort recently received a $7.9 Federal Railroad Administration Consolidated Rail Infrastructure and Safety Improvements grant [see "Ohio, Texas lead recipients of federal Consolidated Rail Infrastructure grants," Trains News Wire, Sept. 23, 2020] with the help of the Commonwealth of Pennsylvania, which will also invest in the venture, along with the member companies.