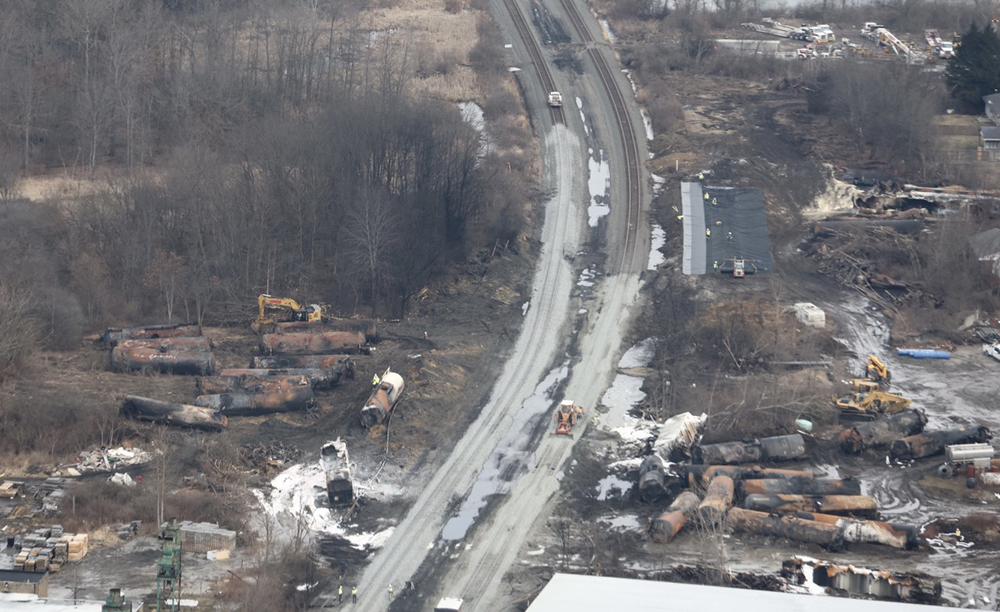 ---
EAST PALESTINE, Ohio — Trains are running again through East Palestine, Ohio, although the village's mayor isn't too pleased with the way operations resumed.
WKYC-TV reports Norfolk Southern began operations on its main Cleveland-Pittsburgh line through East Palestine Wednesday evening, to the displeasure of Mayor Trent Conaway, who said he had been told trains would not begin operating until all residents had been able to return home.
"Anybody who was in incident command [Wednesday] night can tell that I was not very happy with that," Conaway said, noting there was not much he could do "unless I go tie myself to the railroad tracks. …
"I know they have a job to do; they have to get through town," Conaway acknowledged. Still, he and others were also concerned that equipment being used by the railroad to clean up the derailment could spread hazardous materials on local roads. Conaway said he was told company street sweepers would rectify that problem "immediately."
"We're going to hold their feet to the fire," the mayor said. "They're going to do what they said they're going to do and they're going to protect the people of this town."
The reopening of the line also meant the resumption of Amtrak's Capitol Limited after five days of cancellations; Thursday's trains departed on time from Washington, D.C., and Chicago; as of 7:30 a.m. CST today, both trains are through the derailment area, with the westbound train running about an hour late and the eastbound is about 30 minutes behind schedule.
The city is facing other challenges in its return to normal.
In a Thursday press briefing, East Palestine Fire Chief Keith Drabeck said his department was in the same position as many others in the community: figuring out what it could or couldn't use in the wake of the derailment and fire.
"All of our gear is out of service due to the fire," Drabeck said. Departments from as far away as South Carolina were providing backup gear, he said, while his department figures out what it can still use and what has been contaminated. "If you drive past the fire house, it looks much like a lot of other areas in this town: a disaster area."
While officials had given a general all-clear for people to return to their homes on Wednesday, they had also said they would offer air-quality readings of individual homes on request. About 300 such screenings had taken place by Thursday afternoon, said Columbiana County Emergency Management Agency Director Peggy Clark.
"It takes about a half an hour to do each home," Clark said. Four teams are working 10 hours a day, she said, asking those waiting for an inspection to "please be patient."
Questions over defect alert
Meanwhile, the Pittsburgh Post-Gazette reports that two security cameras in Salem, Ohio — about 20 miles from the derailment scene — show what appear to be a fiery axle on one car of the train that would derail in East Palestine. The report includes video from one of the cameras. This raises questions about when the crew was alerted about a potential defect by a wayside detector. National Transportation Safety Board member Michael Graham said at a Feb. 4 press conference that the crew had been informed of a defect and begun braking before the derailment [see "Vinyl chloride involved …," Trains News Wire, Feb. 4, 2023]. There is a hotbox detector adjacent to the location of one of the Salem security cameras; the next one is in East Palestine, the newspaper reports.
Also, a fourth class action lawsuit has been filed over the derailment, WFMJ-TV reports. This one, the third in federal court, was filed by Ray and Judith Hall of East North Avenue in East Palestine, alleging negligence on the part of Norfolk Southern.