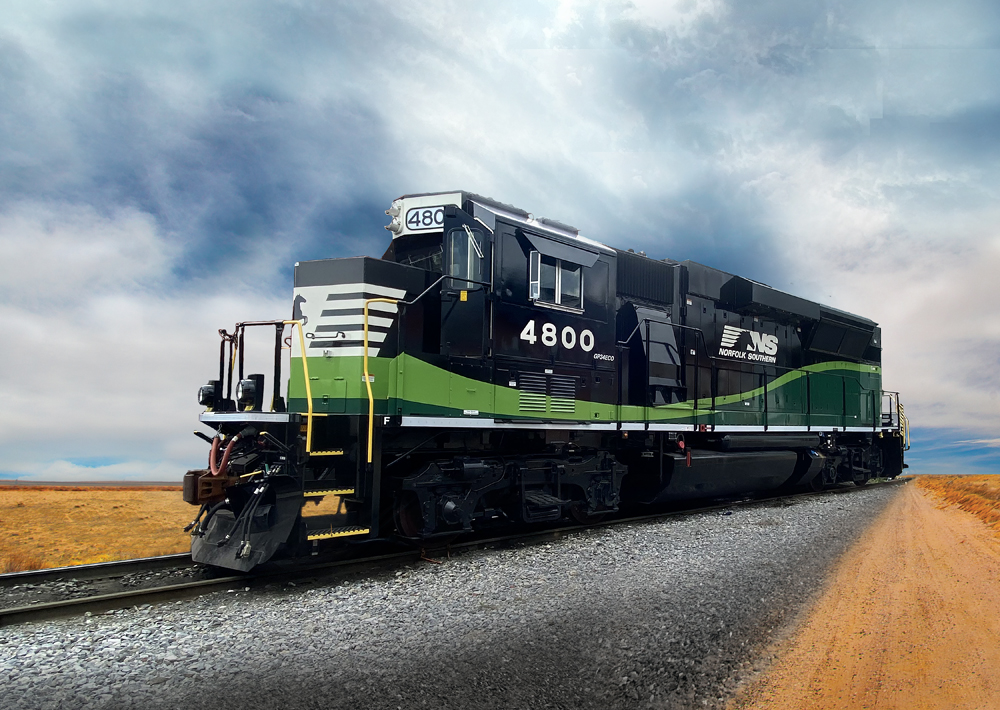 ---
Progress Rail and Norfolk Southern have unveiled the first GP34ECO locomotive, built for yard and intermediate operations to meet Environmental Protection Agency Tier 4 emission standards.
The locomotive, intended to reduce nitrogen oxide emissions by 90% compared to older locomotives, is currently undergoing testing for EPA certification. It is powered by a 3,000-hp 12-710 EMD engine and is the first to use a diesel exhaust fluid/selective catalytic reduction aftertreatment system for line-haul locomotive applications.
Norfolk Southern assembled the locomotive core at its Juniata Locomotive Shop in Altoona, Pa., and worked with Progress Rail and Caterpillar on final assembly, engine, and aftertreatment system work. It also features a new crashworthy cab and new cab electronics.
"In recent years, we have collaborated with Progress Rail to upgrade more than 100 locomotives that power our road and terminal operations," Tom Schnautz, Norfolk Southern vice president of Advanced Train Control, said in a press release. "This new locomotive is another step forward in our modernization journey, and we look forward to achieving Tier 4 emissions certification."
Since 2008, Norfolk Southern and Progress Rail have repowered 50 locomotives specifically for the ECO line. The units offer lower emissions, fuel savings, and other efficiencies, and each and replace two older, less-efficient locomotives.
The unit will be placed in service in Harrisburg, Pa., later this year, with NS and Progress working to ensure field testing meets final emissions certification requirements.