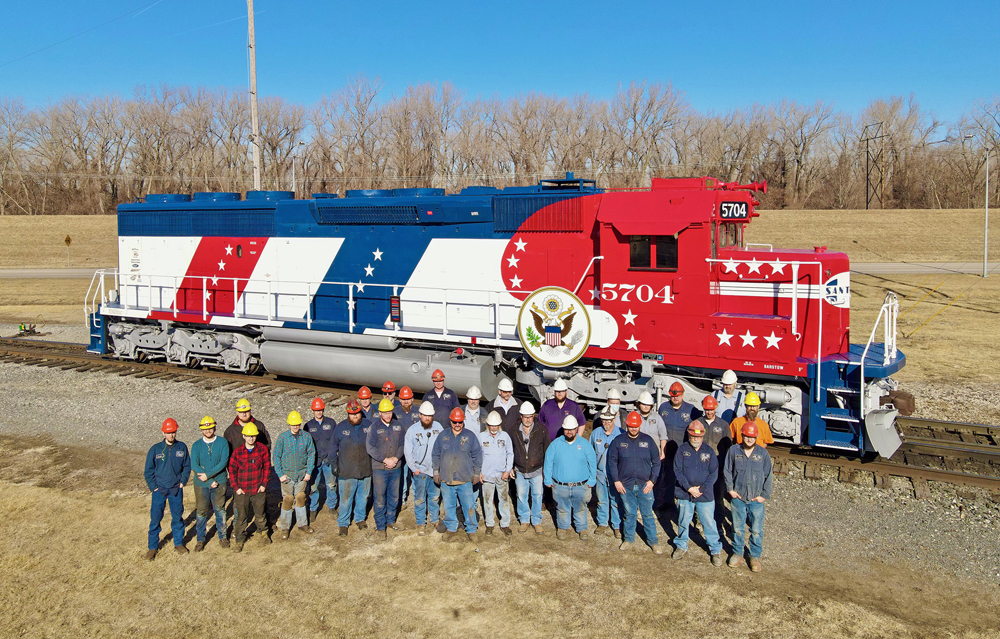 ---
KANSAS CITY, Mo. — Mid-America Car of Kansas City has completed the cosmetic restoration of former Santa Fe SD45-2 No. 5704 — donated to the Southern California Railroad Museum in Perris, Calif., in 2021 — to the eye-catching bicentennial paint scheme it wore in the mid-1970s.
Mid-America's craftsmen took several months to recreate the appearance of the locomotive as it was painted by Santa Fe's shops in San Bernardino, Calif. Stephen Priest, the project manager in Kansas City, notes the attention to detail involved in the project.
"Sherwin-Williams replicated the paint color formulas for Santa Fe's bicentennial locomotives," Priest said in a press release. "They not only replicated them for this restoration project, they donated the paint. It's been meticulously applied, with three coats of each color, plus clear coat to preserve the color integrity and protect the paint from the elements. Sherwin-Williams and Eagle Graphics of Wichita, Kan., can take much of the credit for ensuring 5704's appearance in 2022 is true to its appearance in 1976. The collaboration and enthusiasm amongst all involved has truly been inspiring."
Hank Winn, Southern California Railroad Museum vice president and chief operating officer, sites Priest's "knowledge, experience, expertise as an author and publisher, model railroad industry consultant, master model railroader and historian on all things Santa Fe" as crucial to the restoration. "Without Stephen's tireless pursuit of perfection, this project would have been much more challenging and we appreciate, and applaud, the investment of his time and energy on behalf of SCRM."
BNSF Railway donated the locomotive to the museum last fall thanks to efforts led by Priest [see "Southern California Railroad Museum adds ATSF bicentennial SD45-2 …," Trains News Wire, Oct. 6, 2021]. It was one of five locomotives to wear Santa Fe's scheme honoring the U.S. bicentennial in 1976.
The locomotive is expected to be moved from Kansas City to Perris this summer. Once it arrives in Southern California, the museum will assess what will be needed to return the locomotive to operating condition. "Our team at Perris is capable of making that happen if the material resources can be acquired," Winn says, "and that is our goal. That's a ways off, so for now we look forward to enjoying the cosmetic restoration when 5704 journeys from Kansas City to Perris."