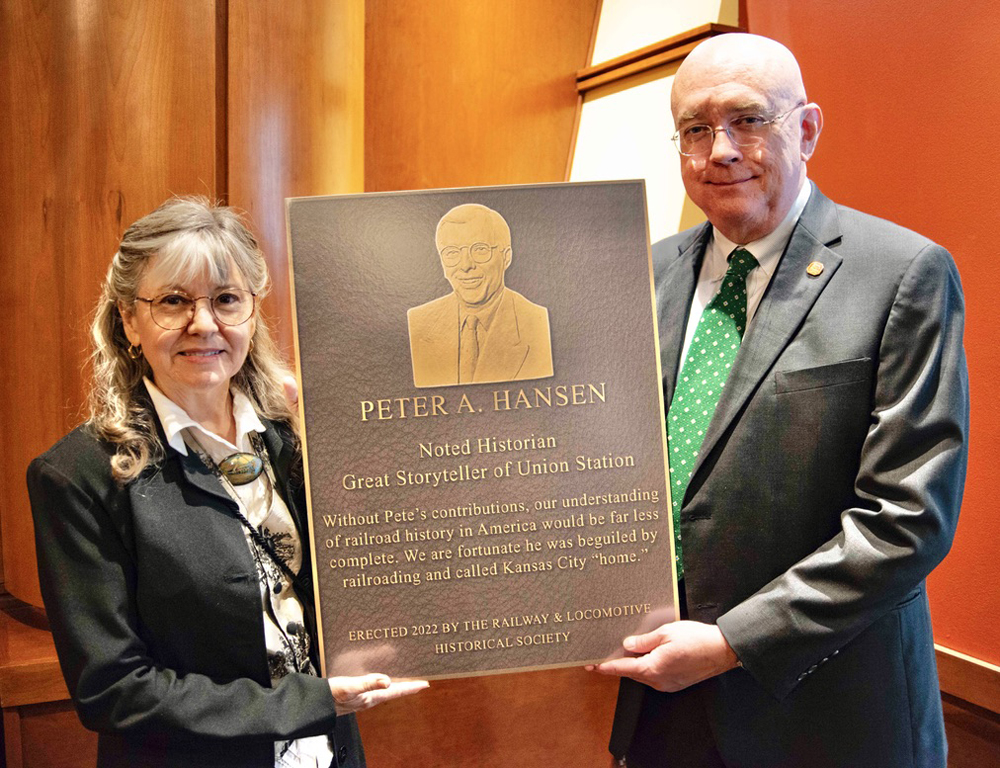 ---
KANSAS CITY, Mo. — Friends and admirers of Peter A. Hansen, the late editor of the Railway & Locomotive Historical Society's scholarly journal Railroad History, gathered here at Union Station Sunday (May 15, 2022) for the ceremonial unveiling of a plaque in his honor.
Hansen, who edited the publication for 13 years, died two years ago of a brain tumor. He was 62 [see "Rail writer, editor, historian Peter A. Hansen dies," Trains News Wire, May 16, 2020].
He was the sixth editor for R&LHS. His tenure (2007-2020) lasted longer than any of his predecessors except that of R&LHS founder Charles E. Fisher's 50 years (1921-1971).
R&LHS underwrote the cost of the bronze plaque bearing Hansen's likeness, which will be mounted in the station's Arthur Stilwell Room, a conference area where the memorial service was held.
The event was coordinated by longtime friend David C. Lester, managing editor of the trade journal Railway Track & Structures (an affiliate of Railway Age) and Hansen's widow, Bonnie Hansen.
A native of Haddonfield, N.J., Hansen held a history degree from suburban Philadelphia's Eastern College. His father's position as an oil-company executive took the family periodically to California and eventually, to Kansas City. It was here that Hansen settled into a successful career in corporate communications with the giant telecom firm Sprint, which was a subsidiary of the Southern Pacific Railroad.
Following that, he pursued full-time writing, speaking, and consulting on his first love, railroad history. Among his top-drawer clients was the Smithsonian Institution, where he worked with former Transportation Curator William L. Withuhn on exhibit-design interpretation of a Southern Railway Jim Crow coach in the National Museum of African American History and Culture in Washington.
Hansen and his wife also frequently stepped into roles as reenactors of various characters in both American and railroad history. These included President Teddy Roosevelt, the Harvey Girls of Santa Fe railroad-station-eatery fame, and Arthur Stilwell, the Kansas City railroad baron who controlled and then lost the Kansas City Southern Railway.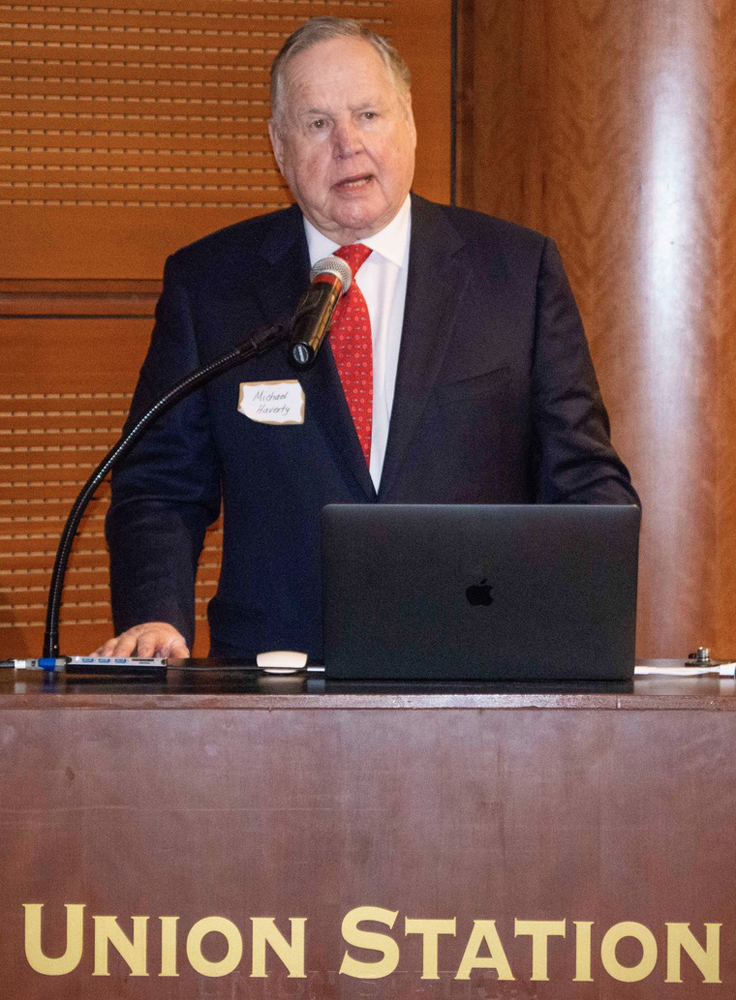 Keynote speakers were Michael R. Haverty, retired president of Santa Fe Railway and retired president, chairman and CEO of KCS, and Dan Cupper, Hansen's successor as editor of Railroad History.
Haverty, who led efforts to renovate Kansas City Union Station, remembered working with Hansen on various projects, including bringing overt railroad content museum exhibits and décor at Union Station, and collaborating on a book honoring KCS's Southern Belle office-car train. "Pete is all over this place," he said, referring to the Union Station surroundings.
Cupper recalled Hansen's collaborative leadership style and his uncanny ability to seamlessly interweave railroading and American history for either a 10,000-word Trains magazine feature story or a smooth and succinct 20-second sound bite for TV or video.
Among others who spoke were:
— Professor and author Albert J. Churella, president of the Lexington Group in Transportation History (Hansen was a Lexington board member);
— Gail Withuhn, who credited Hansen with completing her husband Bill's unfinished manuscript for the book "American Steam Locomotives: Design and Development 1880-1960" (Indiana University Press and R&LHS, 2019);
— Jim Asplund, former president of the Kansas City Chapter of the National Railway Historical Society, and a Union Station volunteer;
— Karen Pearson, Hansen's sister.
Filmmaker Rich Luckin, with whom Hansen collaborated on many productions, including videos highlighting the history of Amtrak and the Pullman Co., showed a 14-minute tribute compiled specifically for the occasion.