MANITOU, Colo. — New railroad snowfighting equipment is relatively rare, but there's a new snow clearing tool on its way to Colorado.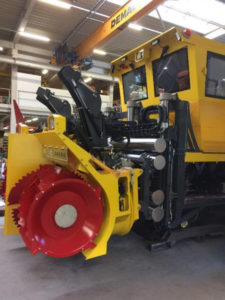 The Broadmoor Manitou & Pikes Peak Railway has ordered a new snow blower as part of its $100 million renovation project. The new snow blower, produced by Zaugg in Eggiwil, Switzerland, will have the capability of cutting through snow drifts up to 10 feet tall and 20 feet wide. The 47.2-inch-diameter cutting reels can cut through 4,200 tons of snow per hour and have the ability to blow snow 50 to 100 feet off the line.
Stadler and Zaugg officials will perform the final inspection in Zaugg's facility on Nov. 26. The new snowblower will become Unit 30 on the railroad's equipment roster when delivered in Spring 2021 with the first new train set.
The complete renovation (track, rail cars and depot) and renaissance of the famed Colorado Cog Railway, which reaches up to 14,115 feet and is the highest railway in America, has less than 1 mile of track left to complete. The Railway is still on track for with a May 2021 reopening. To follow progress and to sign up to receive updates, visit the Cog Railway website