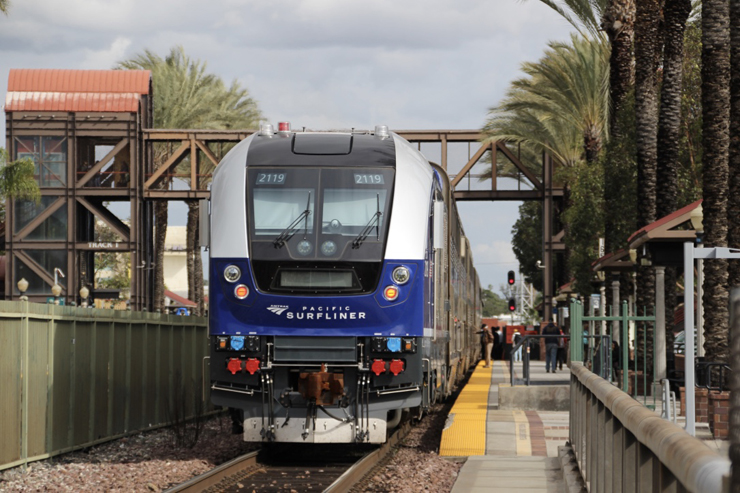 ---
UPDATE: Railroads and unions have reached a tentative agreement as of early Thursday morning, averting a work stoppage. Watch Trains News Wire for more information.
ORANGE, Calif. — Amtrak's Pacific Surfliner service has now announced details of its operating plans for today (Thursday, Sept. 15) and beyond, if there is not a resolution to the freight rail labor dispute.
Surfliner service plans are complicated by the fact that portions of the San Diego-San Luis Obispo route are owned by public entities and will be able to continue operating, while portions are owned and dispatched by BNSF Railway or Union Pacific. As of Friday, no Surfliner trains will operate between Fullerton, Calif, and Los Angeles, or between Moorpark and San Luis Obispo.
"We are doing everything we can to notify our customers and provide alternate service options if the rail service is interrupted," Jason Jewell, interim Managing Director of the LOSSAN Rail Corridor Agency, said in a Wednesday evening press release. "We have closely coordinated with Amtrak and Metrolink to maximize service options for our customers including providing bus bridges where possible."
Thursday plans call for these changes:
— Complete cancellation of trains 586, 794, and 595; cancellation of train 785 between Los Angeles and Goleta, and cancellation of train 777 between Goleta and San Luis Obispo.
— Trains 591 and 594 will operate between San Diego and Fullerton, with a bus connection from Fullerton to Los Angeles.
On Friday and thereafter, until there is a labor settlement:
— Trains 562, 572, 586, 573, 583, and 595 will be cancelled entirely.
— Reduced service will be offered between San Diego and Fullerton, with stops added in Orange, Tustin, and Laguna Niguel.
— Trains will be replaced by buses between Fullerton and Los Angeles for passengers with a valid Amtrak or Metrolink ticket, with bus space available on a first-come, first-served basis.
— All trains will be cancelled between Moorpark and San Luis Obispo. Limited Metrolink and Surfliner service will operate between Los Angeles and Moorpark, with tickets for either service accepted on all trains.
— Limited Thruway Bus service will operate between Chatsworth and Oakland, with stops in Camarillo, Oxnard, Santa Barbara, Grover Beach, and San Luis Obispo.