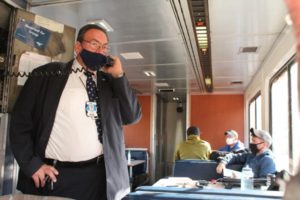 Second in a series
DENVER — When Amtrak operates its long-distance trains daily, train and engine crews make regular turns back to their home base after a mandated minimum of 12 hours' rest. On the routes of the triweekly Sunset Limited and Cardinal, longer stays — perhaps days longer — have been necessary, adding extra expense to those trains' bottom lines.
Now similar inefficiencies are being introduced systemwide, as evidenced by Thursday Denver departures of the westbound California Zephyr, making things more difficult for crew members and less enjoyable for passengers.
Crews' long layovers
In mid-June, management announced its intention to run most long-distance trains three days per week [see "Amtrak plans triweekly service for almost all long-distance trains as of Oct. 1," Trains News Wire, June 15, 2020]. The complicated task of maximizing route connections was not completed for another two months [see "Amtrak sets schedules for triweekly long-distance operation," News Wire, Aug. 13, 2020].
For a variety of reasons — including maintaining important same-day transfers in California to the northbound Coast Starlight — the Zephyr ended up with few connections for its Wednesday departures from Chicago. It is fed only by a variety of state-supported trains: two from Michigan, Milwaukee-Chicago Hiawathas, and the first Lincoln Service arrival out of St. Louis.
As it leaves Denver Thursday morning for the next crew change point at Grand Junction, Colo.,  the on-duty engineers and conductors know they will stay overnight and take the Friday eastbound back to the Mile High City.
Also on board, in the lower level of the sold-out train's Sightseer lounge, are a group of Amtrak "deadheads." These Denver-based crew members ride in non-revenue space to Grand Junction, where they will spend three nights in a hotel before operating Sunday's eastbound Zephyr. That train is scheduled to accept passengers from the southbound Coast Starlight in California and deliver them to connections in Chicago on Monday afternoon.
Single-night layovers are also possible for the Denver crew departing Mondays, but engineers and conductors bringing the eastbound to Grand Junction from their base at Salt Lake City have two-night layovers twice a week. "Alternate transportation" with flights, buses, or excruciating van rides could replace lengthy hotel stays, but similar out-of-sync situations occur at other locations along Trains News Wire's October journey on the Zephyr, Coast Starlight, and the Empire Builder. Expenses, of course, don't offset money Amtrak saves by furloughing qualified employees and not running trains, but the charges must be factored in to the mix.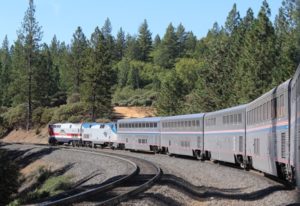 Detracting from the onboard experience
Heading west from Denver is among the highlights of any California Zephyr trip, along with the train's morning trek across the Sierras a day later. Yet during the pandemic, coach passengers can no longer enhance the experience with breakfast in the dining car. That space is reserved for sleeping-car passengers. For those in coach, fare is limited to service in the Sightseer lounge car's lower-level café. Every lounge and table seat upstairs is taken leaving Denver and Reno, Nev., so combining food with unmatched scenery isn't always possible.
Options aren't appreciably better for the sleeper patrons who choose not to sequester themselves in their rooms. With only one attendant in the dining car serving one egg alternative, the breakfast sandwich, eating in either location is problematic. Since many roomettes and bedrooms tend to exchange customers at Denver and Reno, sleeping-car attendants need to get linens changed before new arrivals are situated. Fetching breakfast orders has to wait.
Conductors on the Zephyrs that Trains News Wire took before and after a three-day Reno stopover made periodic trips upstairs to check on mask wearing and social distancing, and also provided strategic point-of-interest commentary on the public-address system. Such narration has become especially valuable with the discontinuance of schedules and route guides, another feature that helped differentiate rail travel from other alternatives.
Perhaps when the crisis passes, the true value of what this train provides can again be appreciated and properly rendered by those in charge.
Next: A welcome surprise on a busy Coast Starlight