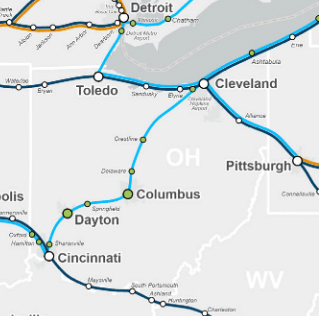 COLUMBUS, Ohio — Ohio Gov. Mike DeWine has asked the state's rail agency to explore the "feasibility and cost" of potential expansion of Amtrak service in the state, the first time DeWine has indicated interest in further pursuing new routes included in Amtrak's "Connects US" proposal.
Cleveland.com reports that a spokesman for the governor said DeWine asked the Ohio Rail Development Commission, part of the state department of transportation, to "work collaboratively" with Amtrak on gathering more information.
Foremost among Ohio proposals in the "Connects US" document released by Amtrak last year is service connecting Cleveland, Columbus, and Cincinnati, which the passenger railroad suggests should see three round trips daily. Also among the proposals are Cleveland-Toledo-Detroit; Chicago-Cincinnati; Cleveland-Buffalo-Albany-New York; and extension of the Pennsylvanian from Pittsburgh to Cleveland.
A Columbus Dispatch article says it could take eight months to a year to develop the report to determine routes, assess costs and infrastructure needs, and look at environmental impacts. The state would then need to decide on making a financial commitment.
State support will be needed to launch any new service; criteria for pursuing possible new routes were released last week by the Federal Railroad Administration [see "FRA unveils Corridor ID …," Trains News Wire, May 17, 2022].