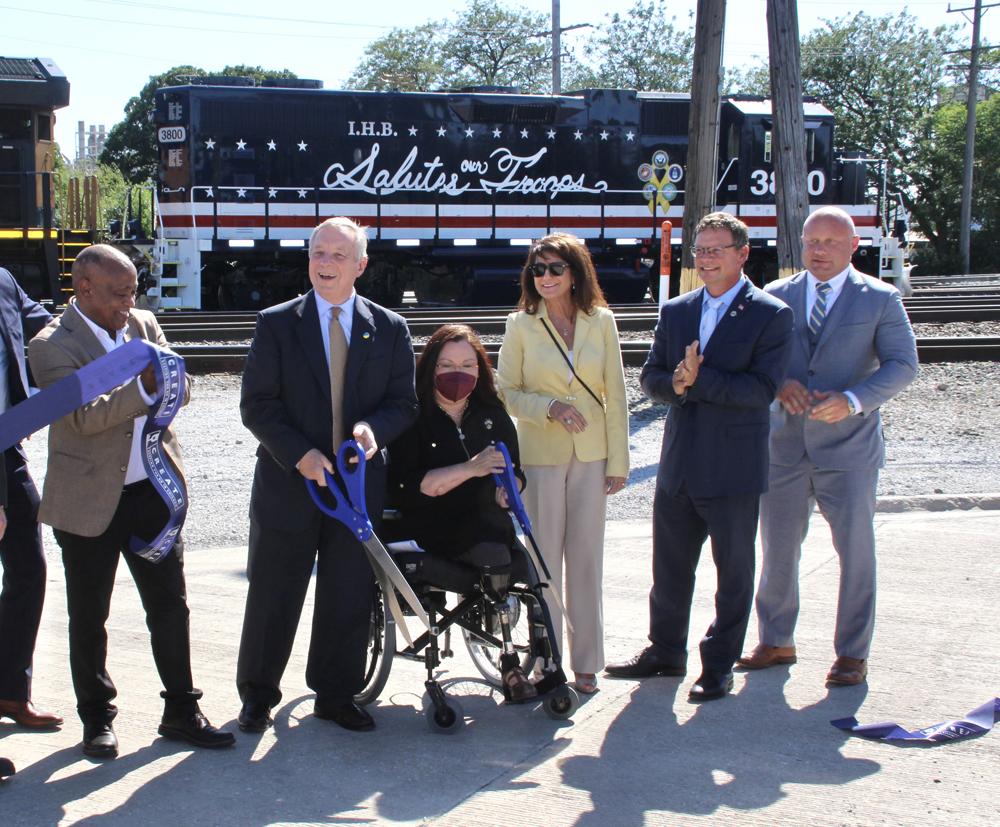 ---
SUMMIT, Ill. — Some projects in Chicago's CREATE program, which seeks to address rail congestion, bring dramatic changes to the landscape. The Englewood Flyover, the lengthy bridge which raised Metra's Rock Island District above the Norfolk Southern main line on the city's South Side, is the classic example.
For others, the impact is far more operational than visual. The Argo Connections, project B9 in the CREATE labeling system, is a prime example. Most people may never see the infrastructure work being celebrated on Friday, June 17, but its impact will be widespread.
CREATE (that's Chicago Region Environmental And Transportation Efficiency) celebrated the completion of the Argo project with a ribbon cutting that brought out both the state's U.S. senators, U.S. Rep. Marie Newman, and a host of other government and railroad officials. It's the 32nd project to be completed of the 70 on CREATE's agenda since the program began in 2003.
"The big problem we are addressing with each of these projects is how to move trains through the Chicagoland area more quickly," said U.S. Sen. Richard Durbin. "Why is that important? Well, there are two reasons that come to mind immediately. One is called supply chain. Have you heard the term? We know the inflation we are facing reflects the fact that the supply chain is not as efficient as it should be.
"The other problem we are facing is how to move trains, some with passengers, some with freight, through the same areas in an efficient way … That is one of the bottom-line accomplishments on this particular, B9 project."
Added U.S. Sen. Tammy Duckworth, "Our rail system carries nearly half of all intermodal rail containers, and nearly 30% of all the railcars right here. It's really crucial that we move goods quickly and efficiently so we can keep the costs down."
The project involved building a new double-track connection and new crossovers at the connection between the Belt Railway of Chicago and an Indiana Harbor Belt/CSX Transportation line at Argo, adjacent to Archer and 63rd streets in Summit, with additional crossovers at a control point at 71st Street, raising speeds from 10 to 25 mph.
That connection doesn't directly involve Metra commuter trains — although its Heritage Corridor trains cross a nearby diamond and stop in Summit — but Metra's CEO, Jim Derwinski, was as passionate as anyone in extolling its benefits during the series of speakers marking the project's completion. He noted the huge collection of partners in the effort to make the 1,500 trains that move in Chicago each weekday — roughly 700 freights, 700 from Metra, and 100 from Amtrak — do so more smoothly
"Six Class I railroads, Metra, Amtrak, the federal government, the state of Illinois, the county of Cook, all of our municipal partners, along with IDOT" — the Illinois Department of Transportation — "it's an amazing project," Derwinski said. "And every time we get together for a ribbon cutting, or even a groundbreaking, it reminds us where we have come to.
"We didn't do that in the past. That's why this network got congested. And even though we're here on CSX property, this project benefits Metra. It benefits Metra's riders. Because it decongests another portion of the network today."
A few minutes later, in a conversation with Trains News Wire, Derwinski elaborated on the Argo project's impact.
"It relieves pressure at the areas where we cross the freight traffic," he said. "… On the Heritage Corridor alone, we cross six different rail crossings, and on an average day, there's 150 movements over those crossings. So to keep those commuter trains on time, it's really about clearing the freight train from its slot at that crossing. And projects like this, speeding up the throughput, and opening up a little more capacity, are going to get the freight trains through those crossings faster."
The freight railroads certainly welcome that additional capacity, as well.
"For the IHB, it means more fluidity in and out of Argo, but we also see it as an opportunity to increase business up the road," said Indiana Harbor Belt General Manager John Wright.  "We have terminals up in Norpaul" — about 10 miles away, in Franklin Park, Ill. — "that we want to develop for future business, so it gives us more velocity through this area, adds another track for trains coming out of the BRC railroad, and obviously helps our partners with Metra and Amtrak in getting across the diamond. … When you can go high speed at what is basically a crossroad, it makes a big difference in the fluidity."