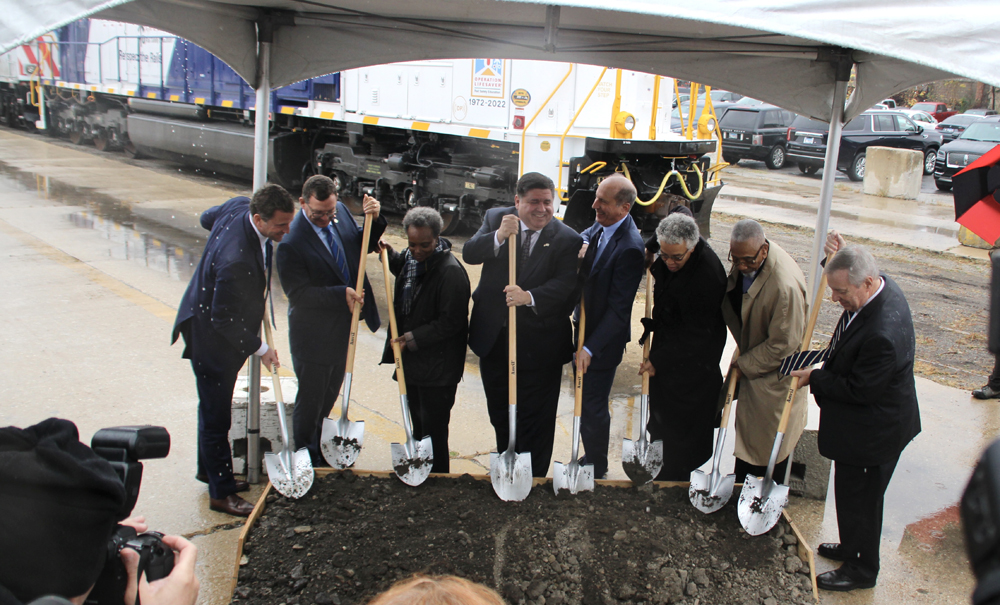 ---
CHICAGO — To weigh the significance of Tuesday's groundbreaking for part of CREATE's latest infrastructure project, consider the adage that "success has many fathers, but defeat is an orphan."
Then consider the 13 speakers and many other representatives from federal, state, county, and local government that were part of the ceremony for the Forest Hill Flyover and 71st Street Grade Separation project.
This, clearly, is a big deal — both in impact and by price tag, part of the biggest in the 70-project menu for the Chicago Region Environment and Transportation Efficiency program. And because of the impact it will have, everyone wants to celebrate the beginning of work, and be seen as part of the solution to Chicago's biggest railroading bottleneck.
The project being celebrated on Tuesday will build a bridge to carry a north-south CSX Transportation main line over east-west tracks used by Norfolk Southern, Metra, and the Belt Railway of Chicago, eliminating two sets of at-grade diamonds. It will also build an underpass to carry 71st Street under the CSX mainline, replacing a much-blocked grade crossing.
It is part of the far-larger 75th Street Corridor Project, a massive untangling of lines that also involves Union Pacific and Amtrak. The overall project was eventually broken into pieces as its overall cost reached more than $1.5 billion. The estimated cost of this portion is $380 million; it received a $132 million grant in 2018 and has lined up $260 million in state, local, and private — i.e., railroad — funding.
Several of Tuesday's speakers highlighted that cooperative effort between levels of government and private entities as the key to starting this project, and to the success of CREATE in general, which so far has completed 33 projects. And some suggested that while its achievements were local, its importance as a model for infrastructure work could, or should, extend well beyond Chicago.
"We need to do this nationally, where we bring public and private sector together," said U.S. Rep. Marie Newman (D-Ill.), a member of the House Committee on Transportation and Infrastructure. "… This is a really critical model we need to use nationally."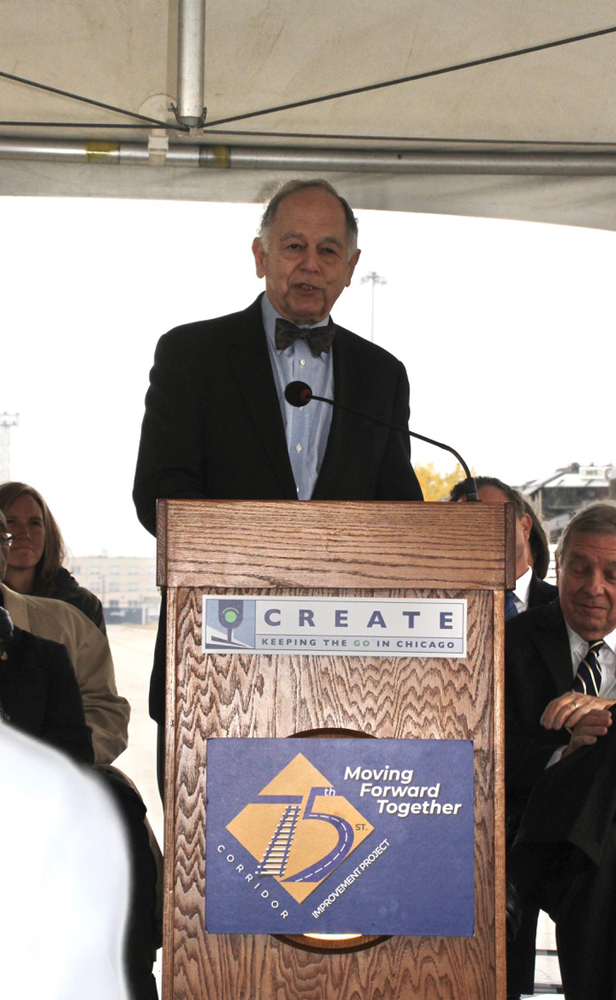 Seconding that notion was Surface Transportation Board Chairman Martin J. Oberman.
"I have held CREATE out as an example in recent years, particularly for the gateways in Houston and New Orleans, which very much, although on a smaller scale, have the same congestion we have here," Oberman said. "And I have recommended to them, and will continue to do a little bit more than recommend … that they implement a CREATE-like project."
Many of the speakers focused on the impact for the South Chicago neighborhood where the project will take place; the meaning for the local and regional economy —"Jobs, jobs, jobs," said Illinois Gov. J.B. Pritzker, "that is what is happening here today" — and Chicago's crucial role in the national supply chain.
Some spelled out the specific operational need that led to the project.
"At this chokepoint, 30 Metra and 90 freight trains cross each other's paths each day, while some of the freight trains also cross 71st Street," said Chicago Mayor Lori Lightfoot. "This creates challenges for everyone — pedestrians, bicyclists, and motorists alike — and poses threats to the climate, given the collective emissions of trains and vehicles idling at crossings. … The 75th Street [Corridor Improvement Project] will begin alleviating these challenges, so this is a very big deal for this region."
The operational impacts, though, will extend far beyond one neighborhood, or one junction.
"As has been said many times, this is the biggest chokepoint in the region, possibly the biggest chokepoint in the nation," said Metra CEO Jim Derwinski. "… What we've realized through CREATE is when you fix one part of this network, you actually start seeing benefits anywhere from five to 100 miles out. It's really impressive."
Other speakers on a gray, rainy morning included U.S. Sen. Dick Durbin; U.S. Reps. Bobby Rush and Jesus (Chuy) Garcia; Cook County Board President Toni Preckwinkle; Association of American Railroads CEO Ian Jefferies, and CSX Transportation Chief Legal Officer Nathan Goldman, who joked that he would someday show his new granddaugher photos of the lineup at the event and say, "See, your granddad really did do something.
"Seriously, the ability to pull good business and good government together to work for the benefit of the public is something to really applaud," Goldman said.