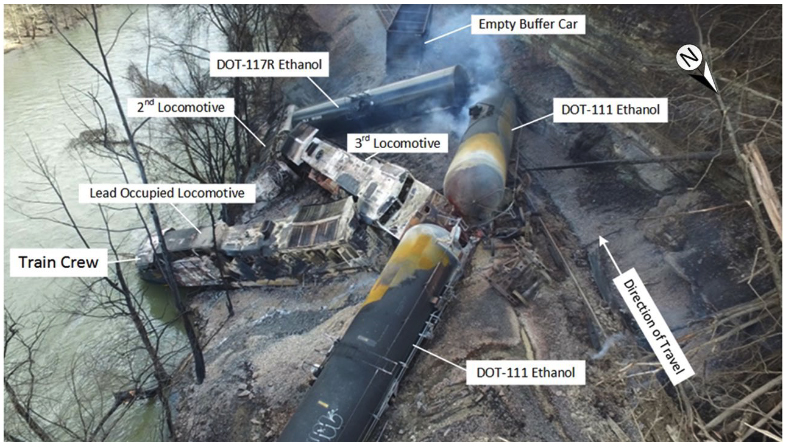 ---
WASHINGTON — CSX Transportation's use of a weather alert system which did not sufficiently account for extreme rainfall was a contributing factor in a Feb. 13, 2020, derailment and fire caused by a mudslide in Draffin, Ky., the National Transportation Safety Board concluded in its final report on the incident.
The report, completed in August, was released last week. The incident — in which three locomotives, a buffer car, and four tank cars of denatured ethanol derailed, leading to a fire — played a part in a safety recommendation issued by the board in December 2020 that trains have at least five non-placarded cars between locomotives or other occupied equipment and cars transporting hazardous materials [see "NTSB issues recommendation for increased use of buffer cars …," Trains News Wire, Dec. 16, 2020].
The board is also issuing three new recommendations as a result of the report:
— That Class I railroads and Amtrak revise criteria for operations to provide dynamic weather alerts that take into account current, persistent, and past weather conditions to improve location-based weather warnings;
— That, once such criteria are revised, operational and engineering personal are made aware of the revision and change practices and protocols accordingly;
— That members of the American Short Line and Regional Railroad Association, and the American Public Transportation Association, are encouraged to make similar revisions to weather alerts and operating practices.
The derailment occurred at 6:46 a.m. on Feb. 13, 2020, at milepost 123.8 on CSX's Kingsport Subdivison, where a mudslide had covered the tracks. The train, with three locomotives and 96 loaded tank cars bracketed by two buffer cars, had been moving at about 25 mph before the engineer applied emergency braking upon seeing the slide, which he estimated covered the tracks to a depth of about 10 feet.
The lead locomotive ended up in the river; two of the tank cars were breached, releasing 38,400 gallons of ethanol, which mixed with 11,300 gallons of diesel fuel from the locomotives and caught fire, destroying the locomotives and the two breached cars. Crew members were trapped on the locomotive platform but were eventually rescued by a swift-water team from the Millard, Ky., fire department. Both crew members were hospitalized with non-life-threatening injuries and later released.
Nearby residents were evacuated for about three hours over concerns about fires or possible explosions of other tank cars. The rail line was closed for about eight days.
CSX has subsequently revised its weather alerts to provide additional information such as cumulative rainfall and increased track inspections when forecasts call for 1 inch or more of rain per hour; and is working with a drone contractor on inspections for floodings and landslides. In Draffin, drainage improvements and a slide-detection fence have been added at the site of the mudslide.