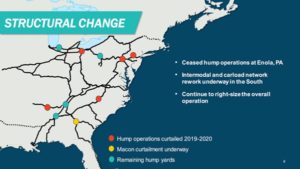 NORFOLK, Va. — Norfolk Southern will idle the hump at its yard in Macon, Ga., next week and close several local yards around Atlanta as part of a redesign of its carload and intermodal networks in the South.
Macon will be the sixth hump NS has idled since 2019 under its shift to a Precision Scheduled Railroading operating model that has reduced reliance on major terminals.
Chief Operating Officer Cindy Sanborn, who joined NS 58 days ago, is accelerating operational changes at the railroad. Converting Macon to a flat-switching yard was originally planned for next year.
"We have a strong foundation in place but we still have a lot more work to do and we need to move faster," Sanborn told investors and analysts on the railroad's Wednesday morning earnings call.
By pre-blocking more traffic at origin and focusing on block-swapping en route, NS has siphoned switching volume out of its hump yard network. The reduced volume at some classification yards means it's more efficient to convert the hump yards to flat-switching facilities.
Over the past year NS has idled the humps at Allentown, Pa.; Sheffield, Ala.; Linwood, N.C.; and Bellevue, Ohio, which had been the largest classification yard in the East.
"In September we stopped using the hump at Enola, Pa., the fifth hump to go down since last year," Sanborn says. "The change in Enola avoids an upcoming capital investment and will result in a more reliable and faster operation."
"Next week we are kicking off a much larger set of changes in the South, when we stop hump operations at our yard in Macon, Ga.," Sanborn says. "Concurrently, we will also close several local yards in the Atlanta area. These changes enable us to rework many of our Southeastern intermodal flows for improved service, lower cost, and additional growth capacity."
The move will leave NS with two hump yards in the north — at Elkhart, Ind., and Conway, Pa. — and two in the south, at Birmingham, Ala., and Chattanooga, Tenn.
Under Sanborn NS is putting additional focus on railcar velocity. "This scrutiny at the most granular level represents a big opportunity to convert structural change into gains in fuel efficiency, train size, equipment utilization, and service levels," Sanborn says.
Sanborn came to NS from Union Pacific, where she had served as a regional vice president and vice president of network planning. She previously was chief operating officer at CSX Transportation.
"My experience has included driving change and achieving what PSR is all about: Being efficient, consistent, and improving the operating ratio," Sanborn says. "What drew me to Norfolk Southern are the significant opportunities ahead. Each railroad is different in terms of markets and customer mix, but I believe we can and will operate at the very best levels of the industry."
NS aims to close its operating ratio gap with the rest of the industry. In the third quarter, its adjusted operating ratio was a record low 62.5%, but all of the other publicly traded Class I railroads reported operating ratios below 60% and Eastern rival CSX reported a 56.9% operating ratio, 5.6 points lower than NS.