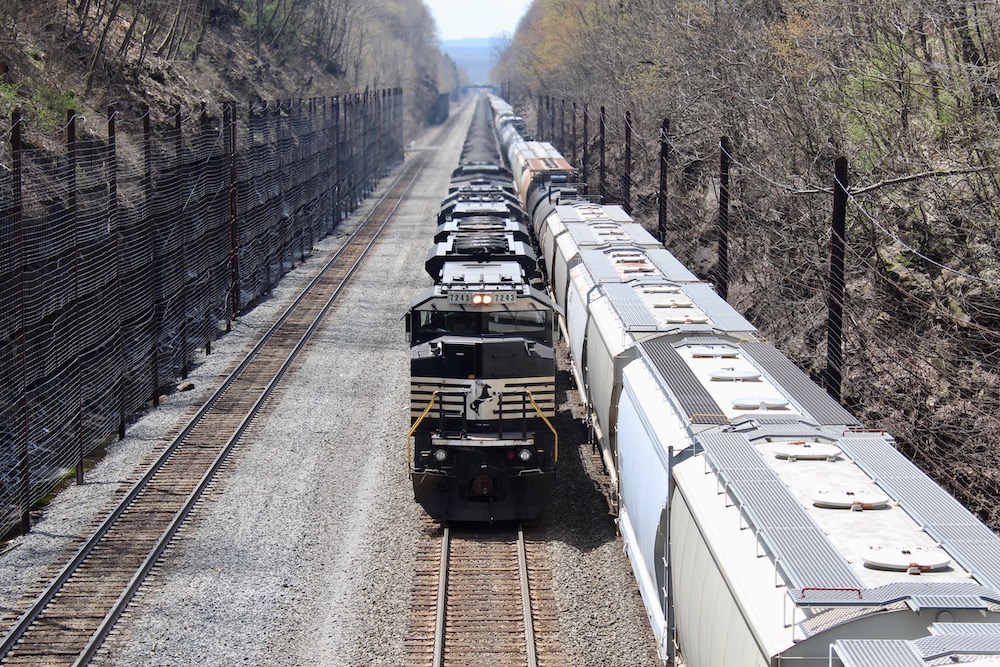 ---
ATLANTA — Norfolk Southern set fourth-quarter and annual records for revenue and profits, but expects a slowing economy and declining freight demand to produce flat revenue and earnings this year.
The big unknown: Will the railroad's ongoing service improvements allow NS to offset anticipated traffic volume declines as the economy weakens?
CEO Alan Shaw, speaking to investors and analysts on the railroad's Wednesday morning earnings call, said service is the best it's been in two years as NS nears its train and engine crew hiring target.
The railroad currently has 7,500 active conductors and engineers, just 100 shy of its goal for May, Chief Operating Officer Paul Duncan says.
The big four U.S. railroads, including NS, couldn't meet demand in 2022 due to widespread service problems related to crew shortages.
"We made great strides to close the year and are encouraged by our progress," Shaw says. The operations improvements helped push NS' traffic volume to 52-week highs in December.
"I think we're going to be able to claw back some volume — in fact, I'm certain of it," Chief Marketing Officer Ed Elkins says. But there's uncertainty about whether that will exceed slowing demand in intermodal and merchandise traffic segments, he says.
The railroad's key operations metrics, including average train speed and terminal dwell, have continued to rebound from their second-quarter lows. "We know we have to keep getting better," Duncan says.
Despite the softening freight demand, NS will continue to hire aggressively to shore up crew locations that remain below minimum levels, Shaw says.
NS executives reiterated plans outlined at investor day last month that they would not furlough train crews during a downturn as part of an effort to make the railroad's service more resilient. Furloughed workers tend to not return to the railroad, making it difficult to maintain service and capture traffic during an upturn.
"We want to ensure that if there is a volume downturn we are in position as volume comes back to handle it and handle it well," Duncan says.
NS will spend $2.1 billion on capital projects this year, including the modernization of 115 locomotives as part of its ongoing DC-to-AC traction conversion program. The like-new AC units will have the pulling power equal to 150 DC units, Duncan says.
For the quarter, NS volume declined 1%, with intermodal down 4%, merchandise traffic flat, and coal volume up 8%. The railroad's operating income rose 5%, to a record $1.1 billion, as revenue grew 13%, to a record $3.2 billion. Earnings per share rose 10% to $3.42. The fourth-quarter operating ratio rose 3.1 points to 63.5%.
For the year, volume declined 3%. Operating income rose 8%, to a record $4.8 billion, as revenue increased 14%, to a record $12.7 billion. Earnings per share grew 15%, to $13.88. The operating ratio increased 2.2 points for the year, to 62.3%.