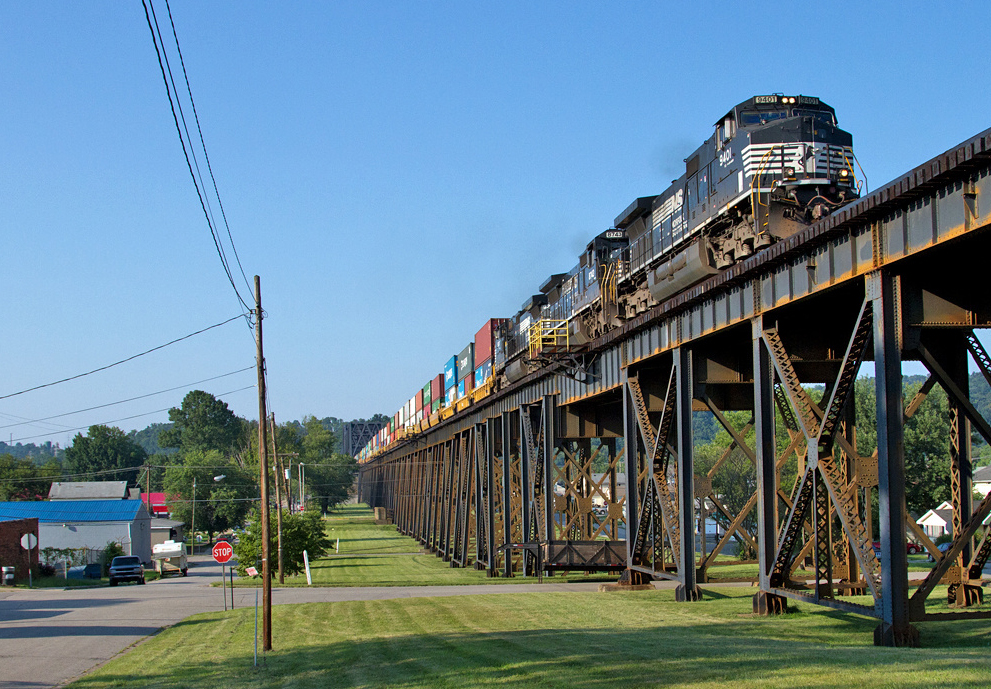 ---
CHICAGO — Norfolk Southern CEO Alan Shaw says the railroad remains steadfast in its commitment to taking a long-term view and a strategy that prioritizes service and growth.
NS will continue to be a customer-centric, operations-driven railroad that realizes it makes and sells just one product: service. "Our customers have options. They're really smart. And if we don't give them a good service product and we don't give them value, they're going to engineer a solution around us," Shaw told a shipper conference last week.
So Shaw remains focused on operations because it's what provides service. "Each and every day that I'm in the office, the first place I go, even before I go to my office, is our network operations center … because I want to know what's going on with operations. I want to know the quality of service that we're delivering to our customers each and every day," Shaw told the North American Rail Shippers conference.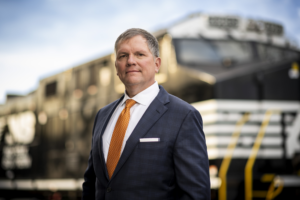 Shaw says the strategy the railroad announced in December is a better way forward for the industry. By not furloughing train crews during downturns, the railroad can maintain service levels and capture volume when freight demand returns. And that, in turn, will allow shippers to build more of their supply chains around rail, Shaw says.
The basic principles of Precision Scheduled Railroading — which include operating safely, serving customers, controlling costs, optimizing use of assets, and developing employees — apply to any industrial company, Shaw says.
"But the difference is what really got perverted more recently with this intense focus on near-term operating ratio," Shaw says. "And you go out and you talk to somebody in operations and you say, 'Hey we've got to lower the operating ratio.' You know what they're going to do? They're going to start cutting people. And that doesn't work."
What will work over the long term, Shaw says, is providing consistent service that leads to growth — and also will improve profit margins and the operating ratio by increasing revenue.
"I made the promise last year that at the first economic downturn we're not going to furlough. We're going to keep hiring," Shaw says.
Rail traffic is down this year for a variety of reasons, and the economic outlook remains murky, Shaw notes. "But our pipeline of conductor trainees is near the highest on record because we're hiring," he says. "We know we're going to get through this cycle. We have confidence in the U.S. economy. We have confidence in our customers. We have confidence in our business partners. So we know we're going to grow."
The disastrous February derailment that released hazardous chemicals in East Palestine, Ohio, has been a major test of NS's strategy. Service has suffered since the derailment, and subsequent wrecks have increased scrutiny of NS and the rest of the railroad industry.
"Our commitment to that plan got tested really early on Feb. 3 in East Palestine, and got tested in a way that I never would have imagined," Shaw says. "But our response to East Palestine was fully aligned with that better way forward of operating in the best interests of our customers, our employees, the communities we serve, and our shareholders."
NS has been focused on doing the right thing in East Palestine, Shaw says, and thus far has contributed more than $35 million to local residents, businesses, schools, first responders, and various community projects. "But that's just a piece of it. I think what's even more important is that personal involvement. So I go back almost every week," Shaw says.
Shaw says he's made friends during his frequent visits to the town.
"Generally, it's not about the money Norfolk Southern is providing," Shaw says. "It really is about Norfolk Southern's personal connection to the community. That's what they want. They want to know that we're going to be there. That we're not going to just cut a check and walk away. That's the easy thing to do. But that's not really going to help. We've got to be there. We've got to show we care."
The efforts have paid off, Shaw says. On a visit to East Palestine last month, Shaw was eating a hot dog while walking to the park. "I had town members come up to me and thank me for what Norfolk Southern is doing in the community. I can tell you this: three and a half months ago that was not happening. I was getting a different level of feedback," he says.
Shaw says railroads are safe but more can be done to prevent derailments.
He touted the joint letter that he and the leaders of labor unions sent to NS employees last month to emphasize their commitment to collaborating on safety. "The visual of a letter from me and the 12 heads of labor unions, with the NS logo and the logos of the 12 labor unions on the top of that letterhead, is pretty powerful," Shaw says.
Shaw also explained why NS last month selected Atkins Nuclear Secured to conduct an independent review of the railroad's safety efforts, including its safety culture, safety-related training programs, employee engagement, oversight and monitoring, and communications protocols and practices.
Shaw said he sought out ANS because of its experience in the nuclear sector in general, and the U.S. Navy's nuclear propulsion program in particular.
Shaw's undergraduate degree is in aerospace engineering. He spent the first two years after graduation working as a nuclear project engineer at Newport News Shipbuilding in Virginia, where he was part of a team that was installing nuclear reactors on the aircraft carrier U.S.S. George Washington. That experience exposed Shaw to the Navy's views on the safety of its nuclear-powered ships.
"It's all about zero tolerance for failure on safety. Admiral [Hyman] Rickover, who had incredibly high standards, knew that if there was a reactor release it would be the end of the nuclear Navy," Shaw says. "So the nuclear Navy just celebrated 75 years and there has been no reactor release that's harmed the environment or Navy personnel. So as I started thinking about enhancing safety at Norfolk Southern, I wanted to do something different … I wanted to do something better. I wanted a little bit of that nuclear Navy DNA."
A friend put him in touch with retired Adm. Kirk Donald, who used to be in charge of the Navy's nuclear propulsion program and is now a safety consultant. The Navy and railroads are similar, Shaw says, with decentralized operations and people working around heavy machinery 24/7.
"They're going to spend two or three years on Norfolk Southern, reporting directly to me on advancing safety … that's how seriously I take it. I'm taking it personal. We're going to be the gold standard for safety in the rail industry," Shaw says.