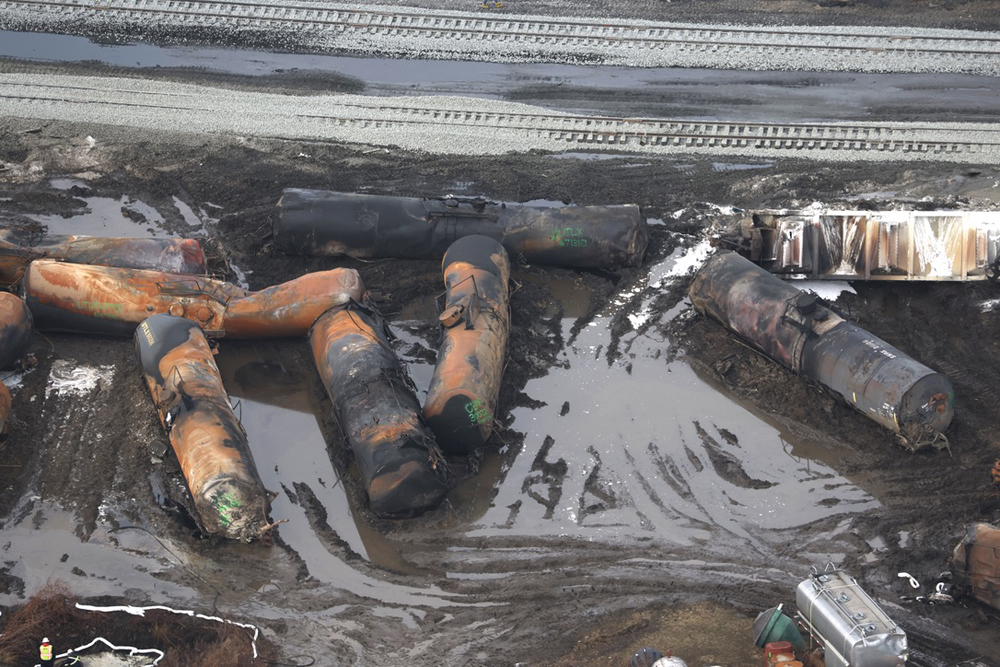 ---
EAST PALESTINE, Ohio — Norfolk Southern will install wells to monitor groundwater as part of its ongoing efforts to manage fallout from the Feb. 3 derailment and fire involving toxic chemicals in East Palestine, according to the remedial action plan released by the company.
The Cincinnati Enquirer reports the railroad will also engage in soil sampling in the area. As part of its efforts so far, it has removed about 180,000 gallons of oil and water from the area, sampled surface and storm-sewer water, and sampled East Palestine's drinking water, as well as private wells. The newspaper made the entire action plan available to read or download.
In a press release, the railroad also said it had completed more than 340 in-home air tests in conjunction with the U.S. Environmental Protection Agency, with more than 100 additional tests scheduled, and donated $220,000 to the East Palestine Fire Department to replace Self-Contained Breathing Apparatus air packs, among other local community-support efforts.
In other developments:
— WDTN-TV reports the U.S. EPA sent Norfolk Southern a letter saying it failed to properly dispose of contaminated soil in the process of reopening its rail line through East Palestine, Ohio, but the railroad says the process of dealing with that soil is ongoing.
The station reports the EPA said in its letter that "areas of contaminated soil and or free liquids were observed and potentially covered and/or filled during reconstruction of the rail line." But in a response to WDTN, the railroad said in a statement, "During the initial response work at the site, involving moving equipment, etc., some soil is moved around to best complete that initial phase. We will continue to remediate the site, including the removal of soil, to reach or exceed regulatory standards. Soil taken from the site is moved to a separate site for testing before being safely disposed of."
— The Ohio Department of Natural Resources estimates the chemicals spilled as a result of the derailment led to the death of about 3,500 fish across approximately 7.5 miles of streams, WEWS-TV reports.
Dead fish were located in Leslie Run, Bull Creek and a portion of the North Fork of Beaver Creek; that estimate was as of Feb. 8. The agency is continuing to work with the Ohio Environmental Protection Agency and a contractor hired by Norfolk Southern to determine the number of fish killed.
— A West Virginia water utility is taking extra steps in its water treatment process as a result of the East Palestine derailment, and making preparations allowing it to switch to a secondary water source, although it says there has been no change in its raw water from the Ohio River.
The Associated Press reports West Virginia American Water in Huntington, W.Va., said it will add a secondary intake on the Guyandotte River. It also said "there are currently no drinking water advisories in place for customers."
Huntington is more than 250 miles downriver from where any waterflow from the East Palestine area would enter the Ohio River. Water agencies in Cincinnati, Louisville, and other downriver locations have indicated they are also monitoring the water quality but at this point say it is not an issue.