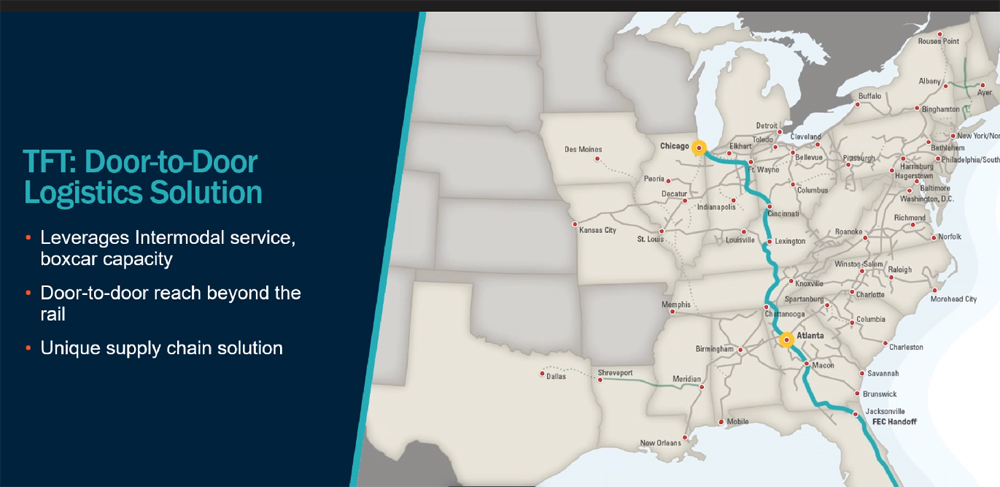 LAKE GENEVA, Wis. — Norfolk Southern has dipped its toes into a market that railroads abandoned decades ago: Expedited less-than-carload service.
NS launched the door-to-door service this month as an experiment in the Chicago-Atlanta-Miami corridor. Trucks pick up small loads and deliver them to a rail-served warehouse where the shipments are cross-docked into waiting boxcars. The boxcars then move in intermodal trains. The process is reversed at the destination, with trucks making the last-mile delivery.
"Your granddad would have called it head-end freight a long time ago," Ed Elkins, NS vice president of industrial products, told the Midwest Association of Rail Shippers this week. "What that is, is boxcars with pallets of freight moving inside for various customers."
The Thoroughbred Freight Transfer service combines the capacity of boxcars with the predictability of intermodal service. "This is very, very promising," Elkins says.
"Today as part of our experiment, we have three nodes: Chicago, Atlanta, and Miami. We're expanding this network as we speak, and I think you'll see more nodes going forward," Elkins says. "Again, it's still an experiment. It's small. But in railroad terms, this is about as exotic as it gets for a new product."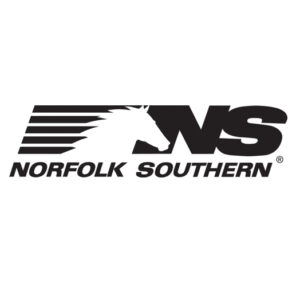 The boxcars ride NS intermodal trains 215/216 between Chicago and Atlanta, connecting with trains 209/214 between Atlanta and Jacksonville. The cars are interchanged with regional Florida East Coast in Jacksonville to reach Miami.
"It's really an old product … a long time ago railroads did all kinds of this business. Millions of carloads of this business," Elkins says. "The key is can we find a niche that delivers value to customers that they're willing to pay for, that solves their problems. And in the current environment, where there's not a great deal of excess capacity on the highway, this is an experiment that's very interesting to us."
The LCL test service is part of Norfolk Southern's broader effort to convert highway traffic to rail.
Some freight has a natural preference for a particular mode, Elkins says. Bulk traffic, like coal, wants to move by rail or barge. At the other end of the spectrum, time-sensitive freight like groceries or fresh flowers want to move by truck.
"Between those two extremes there's a different world of freight, and that different world of freight does not have a particular preference for mode. What it does have is a preference for performance," Elkins says of so-called flexible freight.
That flexible freight world is about twice as big as the freight market that must move by either rail or truck. And it's growing twice as fast, Elkins says. "The prize should be how do we deliver value to those customers that are modally agnostic," he says.
NS has an experimental mindset and a willingness to fail when it tries new ways to tap the flexible freight market. "We think experimentation is incredibly important," Elkins says.
"If you're not failing, you're not trying," he adds.
— Updated at 8:20 p.m. CDT on July 15 with information on trains involved in the Thoroughbred Freight Transfer service.