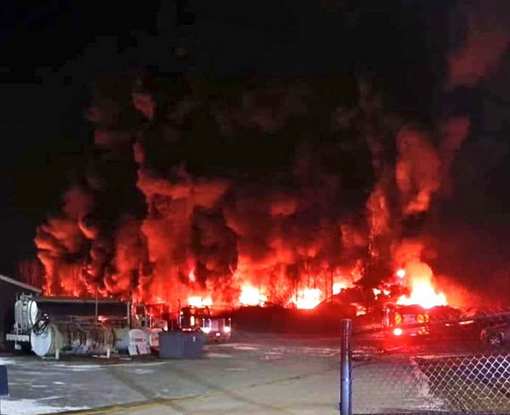 ---
EAST PALESTINE, Ohio — The mayor of the town of East Palestine has declared a state of emergency as a fire continues to burn, following Friday night's derailment of about 50 cars of a Norfolk Southern train near the Ohio-Pennsylvania state line.
WKBN-TV reports Mayor Trent Conaway issued the emergency declaration just before 9:30 a.m. on Saturday. The move allows the village to exercise emergency authority while dealing with the crisis.
Some 1,500 to 2,000 residents are under a mandatory evacuation order issued about 6:30 a.m. today; as of that time, only about 43 people were in a Red Cross emergency shelter set up in a local school. Other residents were told to shelter in place.
A no-fly zone is in effect within a 1-mile radius of the scene.
The National Transportation Safety Board announced it was sending a team of investigators to the accident site.
The Associated Press reported earlier this morning that firefighters had been pulled away from the scene because of continuing explosions. Unmanned devices were being used to stream water on the fire in the pre-dawn hours, while authorities waited to  use drones to fully assess what cars were still burning.
Conaway said firefighters from three states had responded, given the location of the derailment about 51 miles northwest of Pittsburgh and within 20 miles of West Virginia's northern panhandle. No deaths or injuries had been reported, he said. The fire created so much smoke it was visible on weather radar, the AP said. CBS News reported that Conaway said single-digit temperatures complicated the firefighting effort as trucks pumping water froze.
UPI reports the derailment occurred about 9 p.m., involving an NS train en route from Madison, Ill., to Conway, Pa. East Palestine Fire Chief Keith Drabick said the train was carrying "different quantities of products," and said authorities knew the materials involved but declined to name them until it could be determined which cars were carrying which cargo.
Drabick said no contamination of air or water with hazardous materials had been detected. The U.S. Environmental Protection Agency is monitoring the situation.
The railroad said in a statement, "Norfolk Southern has responded to a derailment in East Palestine, Ohio. We mobilized our teams immediately, and personnel are currently on-site coordinating closely with local first responders. We will share more details as they become available." The railroad has subsequently said there are 20 cars with hazardous materials in the train's consist.
Amtrak's Capitol Limited, which uses the route where the derailment occurred, has been cancelled both today and tomorrow. Friday's Capitol Limited departures from Chicago and Washington were terminated at Toledo and Pittsburgh, respectively, as a result of the derailment.
— Updated at 4 p.m. CST with information on hazardous materials in train. Updated at 11:48 a.m. CST with new details throughout. Updated at 8:34 a.m. to correct earlier information on the number of people evacuated.
This is a developing story. Follow Trains News Wire for more information as it becomes available.