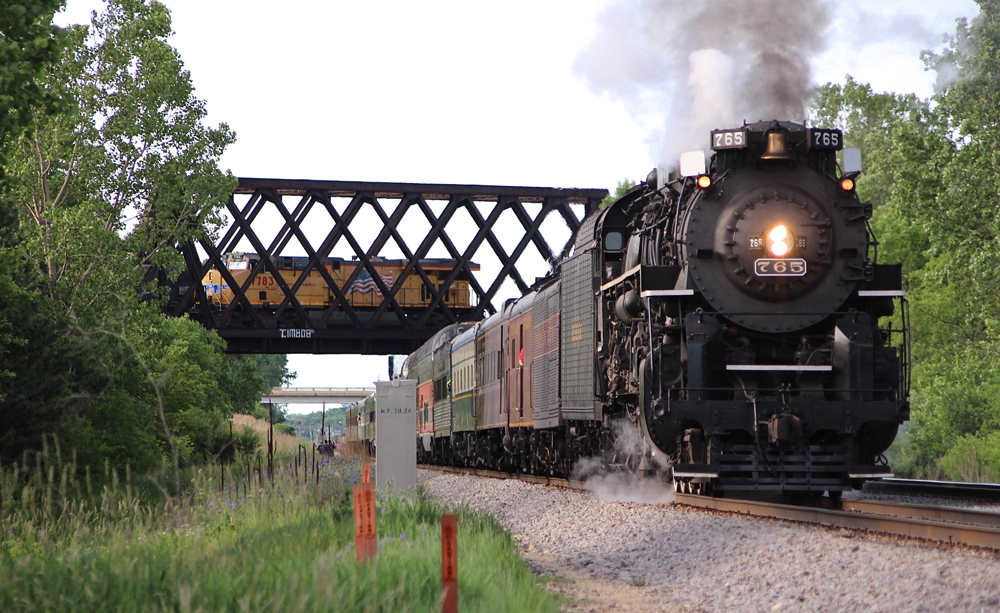 ---
ANGOLA, Ind. — Nickel Plate Road steam locomotive No. 765 debuted for its 2023 operating season during the Memorial Day weekend with one-hour Indiana Ice Cream Train rides out of Angola. The 1944-built 2-8-4 officially kicked off the second year of the Indiana Rail Experience, a program of events and excursions in partnership with the Fort Wayne Railroad Historical Society and the Indiana Northeastern Railroad.
"The 765 did quite well, but its performance has been incredibly dependable," said Kelly Lynch, vice president of the Fort Wayne organization which owns the locomotive. "These trips don't require much of the engine, but it's a good opportunity to put on a show and announce that the Indiana Rail Experience is back in town."
With No. 765 facing north and an Indiana Northeastern diesel at the south end, the seven-car train operated seven sold-out trips throughout the weekend. Also making its debut in the consist was the organization's newly constructed head-end power car. The former Santa Fe baggage car with its onboard Cummins and Detroit generator was put to its paces and will be utilized for virtually any length of an excursion train while saving FWRHS over $50,000 in leasing costs, according to Lynch.
The attention now turns to No. 765's Father's Day weekend of excursions. The Donuts & Dads Train (sold out) and the Summer BBQ Train will depart from Angola on June 17, followed by a repeat of last year's Tri-State Scenic Steam Excursion (sold out) on June 18 from Edon, Ohio to Hillsdale, Mich. "Maintenance work is very minor," Lynch explained. "We built a temporary coal dock in Pleasant Lake, Ind., and recently acquired a telehandler for coal loading, so there will be more work on infrastructure and equipment than the 765 itself."
The 2023 Indiana Rail Experience sees an extended schedule with 30 operating days compared to ten from last year. The Fort Wayne Railroad Historical Society looks to open ticket sales for the entirety of the season by July, with the October Fall Color Trains already showing great interest. "We designed this season to offer something for everyone," said Lynch.
Visit the Indiana Rail Experience website for more information and to purchase tickets.