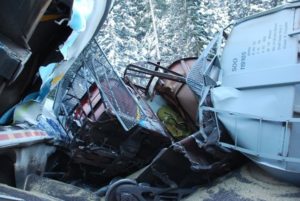 Investigating the fatal February 2019 runaway train incident in the Canadian Rockies, Transport Canada says Canadian Pacific failed to properly identify safety hazards involved in operations on Kicking Horse Pass — a finding CP disputes — and given the railroad until today to fix the problems.
The CBC reports that if the problems are not addressed, the government agency could recommend federal labor charges that carry penalties of up to $1 million along with two years in jail for top executives. The railroad says "there has been no contravention of the Canada Labour Code."
In a confidential document obtained by CBC News, Transport Canada said CP "failed to identify and assess the hazards associated with the job task of operating loaded trains" down the pass. Three CP crewmen were killed when a grain train ran away going down the pass and derailed near Field, British Columbia [see "Investigators: CP grain train 'started to move on its own,'" Trains News Wire, Feb. 5, 2019].
In an Oct. 21 statement to the CBC, the railroad says it is cooperating with the investigation and seeks clarification with the directive "given employees operating on CP's Laggan Subdivision have been fully trained on how to operate and handle the specific conditions that the Laggan Subdivision presents. … CP conducts regular risk assessements and meets or exceeds Transport Canada's regulatory requirements including all Safety Management System requirements."