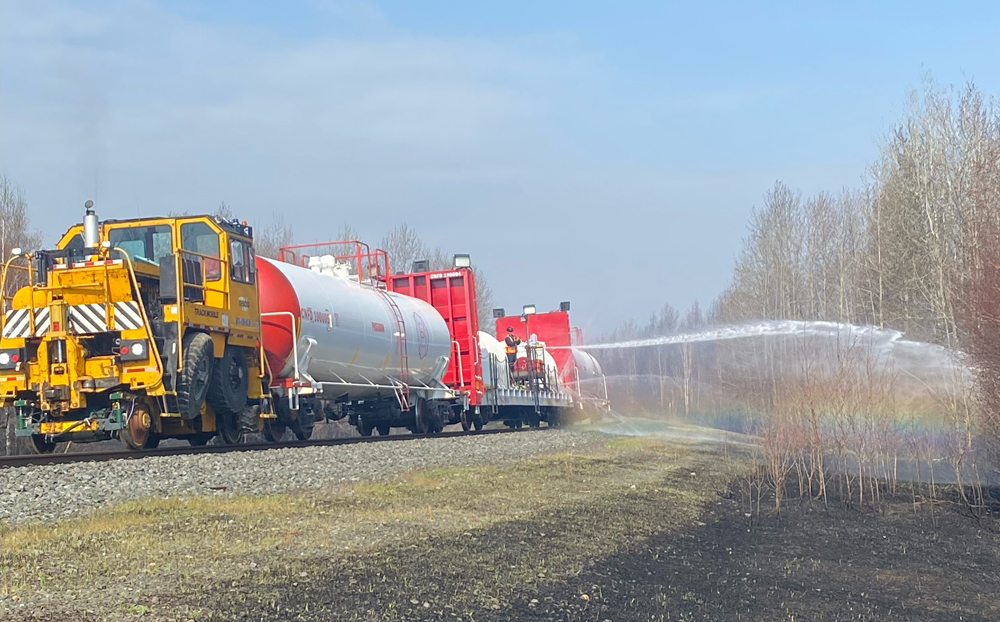 ---
EVANSBURG, Alberta — A 10-mile stretch of Canadian National's transcontinental main line about 65 miles west of Edmonton, Alta., continues to be surrounded by what has become the Yellowhead County wildfire, but trains are getting through the area in part because of CN firefighting equipment known as "Poseidon."
The compact fire train was fashioned out of a lumber-hauling flatcar with high-powered water cannons flanked by two tank cars, pushed by a motorized track maintenance vehicle. Railroad sources tell Trains News Wire the homegrown creation was dispatched to the region last week when unusually dry, hot weather spawned fires that quickly enveloped the town of Edson, where 25 homes were destroyed. Mayor Kevin Zahara captured Poseidon's passage with video on his Facebook page.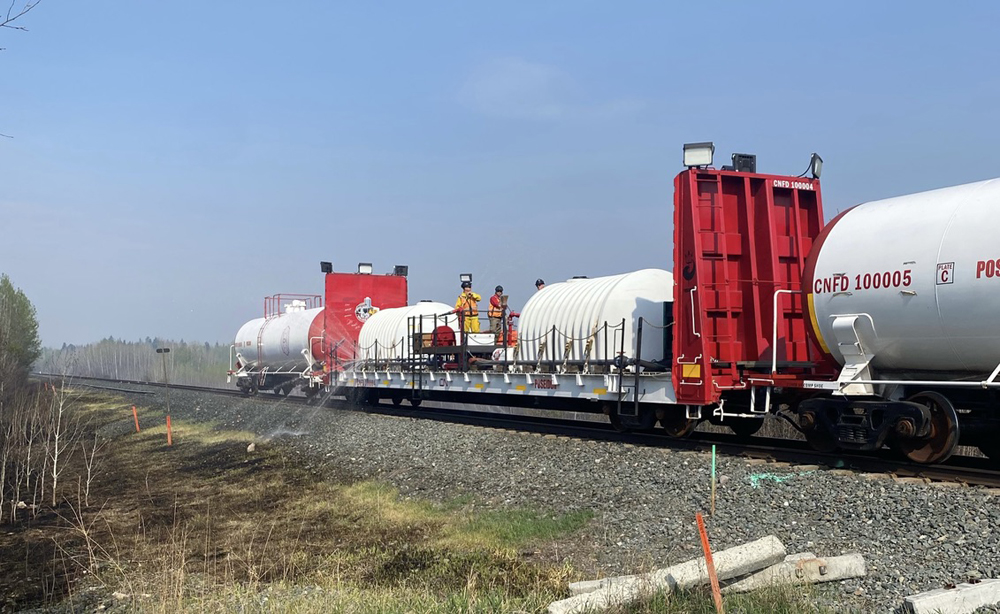 The route through Edson and Evansburg was shut down for a day while firefighting efforts continued, forcing VIA Rail Canada to bus Canadian passengers between Jasper and Edmonton [see "Weekend disruptions hit VIA, Amtrak …," News Wire, May 8, 2023].
Since then, Poseidon has roamed the rails not only protecting CN infrastructure but aiding local fire-fighting efforts where needed. It joins vehicles deployed by other western North American railroads in dealing what has become a spring-through-fall wildfire season.
As of Sunday afternoon, authorities have categorized 22 of the 83 fires burning across Alberta as "out of control." Forecasts are calling for increasing temperatures, high winds, and low relative humidity that are likely to cause continued elevated wildfire danger in the days ahead.